Lung Cancer 'Dream Team' to Merge Targeted Therapy, Immunotherapy
Apr 20, 2015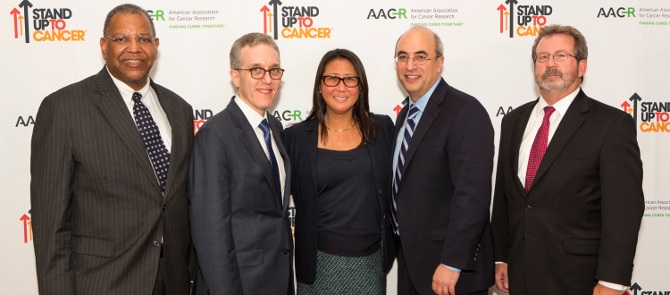 More than 35 of the top lung cancer researchers in the United States, dubbed the lung cancer "Dream Team," are coming together to work on one of the most difficult-to-treat lung cancers – those that have a mutation in a gene called KRAS.
"The KRAS mutation is present in about 20% to 30% of patients with lung adenocarcinoma [a type of non-small cell lung cancer] and KRAS is probably the most commonly recurrent oncogene mutation in lung cancer," says Jeffrey Engelman, M.D., Ph.D., a researcher at Massachusetts General Hospital Cancer Center and the leader of the newly formed group. "But we don't have any drugs available yet that can directly inhibit the mutant KRAS protein," says Engelman.
Engelman and his colleagues from across the country were announced as recipients of a $20 million grant from the American Cancer Society and Stand Up To Cancer (SU2C) at the 2015 American Association for Cancer Research annual meeting in Philadelphia Monday April 20.
SU2C, a nonprofit organization started by the Entertainment Industry Foundation in 2008, is focused on research collaborations and has funded a number of Dream Teams in different areas of cancer research. This is the first time the American Cancer Society is partnering with SU2C to fund a dream team.
Engelman's team was chosen from among 3 finalist teams, each of which had to present detailed plans to a Joint Scientific Advisory Committee that included leadership from the Society and from SU2C, as well as a panel of expert researchers, physician-scientists, and advocates. This same committee will also evaluate the team's progress every quarter.
Devising a New Approach that Pulls From Two Research Areas
"This is an area of high unmet medical need as KRAS mutations are very common in lung cancer," says team co-leader Jedd Wolchok, M.D., Ph.D., a researcher at Memorial Sloan Kettering Cancer Center. Today, patients with KRAS mutated lung cancer are largely treated with standard chemotherapy and radiation. "We have had some success with this, but not enough," says Wolchok.
This is why Engelman and Wolchok are bringing together their unique specialties – targeted therapy and immunotherapy – to devise a completely new approach to treating lung cancers with the KRAS mutation.

"This is a very important aspect of the dream team structure; it ties teams together in a very innovative and meaningful way," says Wolchok. "The fact that we have people coming from two completely distinct research backgrounds – one group focused on immunotherapy and the others cancer biologists specializing in targeted therapies – means that this research is not something we could have done separately."
The researchers who work in the area of targeted therapies are going to be developing methods for stopping KRAS mutated cells in lung cancer patients. The immunotherapy researchers are looking for ways to boost patients' immune responses to their cancer. "Our ultimate goal is to bring together two distinct approaches – one that targets the cancer and the other targets the patient – in the most thoughtful way," says Wolchok.
"We can use targeted therapies to kill cancer cells and then use immunotherapies to further liberate the immune system's response to the cells; this can have a very pronounced impact on these cancers that up until very recently there were no effective therapies for," says Engelman.
The concept of merging targeted therapy and immunotherapy is fairly new. "This is one of the next waves of oncology research," says Engelman. "I think we will see this type of effort in many cancers, beyond KRAS, and we are hoping that insights developed through our research and clinical trials will impact cancers beyond KRAS lung cancers."
Engelman notes that the team has been working together for close to a year now, even though the grant hadn't started yet, in order to meet the SU2C mandate that their work impact the clinic within just a few years – a light-speed pace in the world of cancer research. This pre-grant work has paid off. The team has a number of projects up and running including plans for 10 different clinical trials, some of which will be launching very soon.
"We are hoping that our work and clinical trials will start impacting patients within a couple of years and expect that some of our efforts, by the end of the grant period, will be impacting patients and hopefully shaping the way we treat these cancers in a way we haven't before," says Engelman.
Give us your feedback
Thank you for your feedback.
American Cancer Society news stories are copyrighted material and are not intended to be used as press releases. For reprint requests, please see our Content Usage Policy.