What Does The Affordable Care Act Mean For People With Cancer?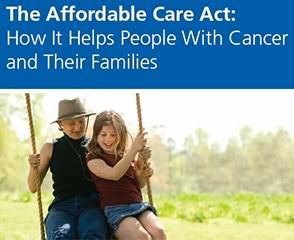 Eastern Division | CancerNYNJ Newsroom | News Updates | Contact Us
Easy-To-Read Guide Explains How the Affordable Care Act Helps
Cancer Patients and Their Families
New York, NY – A new, consumer-friendly guide to the Affordable Care Act (ACA) is now available from the American Cancer Society and its advocacy affiliate, the American Cancer Society Cancer Action Network (ACS CAN). The guide is designed to help cancer patients and their families learn how the ACA will help them access the health care they need. The guide describes how provisions of the law improve the quality of care and make health care more affordable, available and easier for patients to understand.
"People need to know how the Affordable Care Act will affect them in easy-to-understand language. This guide provides straightforward information about what is included in the law and when provisions take effect," said Dr. Maureen Killackey, Chief Medical Officer, American Cancer Society of NY & NJ. "While the law is not perfect, it will significantly improve the health care system and save lives. Through the consumer guide, we are helping to educate the public about the Affordable Care Act and its benefits for cancer patients, survivors and their families."
Since the ACA was signed into law on March 23, key provisions have gone into effect that are giving seniors, children and the uninsured better access to quality, affordable health care. These provisions, as well as those that will be implemented over the next few years, will meaningfully improve the health care system for people touched by cancer. The new law will ensure that people with cancer will no longer:
• Be denied coverage due to pre-existing conditions;
• Be charged more for their coverage because of health status;
• Be faced with annual or lifetime coverage limits that cause a sudden termination of care; or
• Have to choose between saving their life or their life savings because they lack access to affordable coverage.
The guide outlines how the new ACA will improve the quality and cost of health care in the United States for people with cancer and those at risk for cancer. It divides the information into easy-to-understand sections, including: Providing Quality Care; Making Health Care More Affordable; Making Health Care More Easily Available; and Making Health Care More Simple.
The guide also clarifies some of the myths about the new law that began circulating during the legislative debate. In addition, the guide highlights three real-world stories of people who exemplify how the ACA is improving the health care system.
The guide is posted on both the American Cancer Society and ACS CAN Web sites. Click here to access it directly: http://bit.ly/ckX0Qu. Printed copies also are available by calling the American Cancer Society at 1-800-227-2345.


# # #
About the American Cancer Society
The American Cancer Society combines an unyielding passion with nearly a century of experience to save lives and end suffering from cancer. As a global grassroots force of more than three million volunteers, we fight for every birthday threatened by every cancer in every community. We save lives by helping people stay well by preventing cancer or detecting it early; helping people get well by being there for them during and after a cancer diagnosis; by finding cures through investment in groundbreaking discovery; and by fighting back by rallying lawmakers to pass laws to defeat cancer and by rallying communities worldwide to join the fight. As the nations largest non-governmental investor in cancer research, contributing about $3.4 billion, we turn what we know about cancer into what we do. As a result, more than 11 million people in America who have had cancer and countless more who have avoided it will be celebrating birthdays this year. To learn more about us or to get help, call us anytime, day or night, at 1-800-227-2345 or visit cancer.org.