Facing Disparities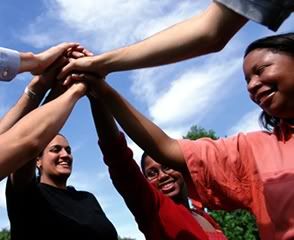 Eastern Division | CancerNYNJ Newsroom | News Updates | Contact Us
In honor of Dr. King's birthday the American Cancer Society is talking about cancer inequalities, problems and possibilities.
January 17, 2011 — Today would have been Dr. Martin Luther King's 82nd birthday. At this time of reflection on his great acts and works, the American Cancer Society - the official sponsor of more birthdays – is looking at how inequalities are leading to disparities in the fight against cancer.
The good news is death rates among African Americans for all cancers combined have been decreasing since 1991. The decline was larger in men (2.5% per year since 1995) than in women (1.3% per year since 1997). But, African Americans continue to bear a greater cancer burden than whites, according to the latest edition of the American Cancer Society's Cancer Facts and Figures.
African Americans have the highest death rate and shortest survival of any racial and ethnic group in the United States for most cancers. The death rate for all cancer combined continued to be 33% higher in African American men and 16% higher in African American woman than in white men and women.
The causes of these inequalities are complex and are thought to reflect social and economic disparities more than any biologic differences associated with race. These include inequalities in work, wealth,income, education, housing and overall standard of living, barriers to high-quality health care, and racial discrimination.
The racial difference in overall cancer death rates is due largely to cancers of the breast and colon and rectum in women and cancers of the prostate, lung and bronchus, and colon and rectum in men. In recent years, death rates for lung cancer and prostate cancer have decreased faster in African American men than white men. There have also been more rapid declines for other smoking-related cancers in African American men. These decreases have contributed to the recent narrowing of the disparity in overall cancer mortality between African American and white men. In contrast to lung and prostate cancer, the disparity gap has widened for colorectal cancer in both men and women and for breast cancer in women.
For certain cancers, the racial disparity reflects higher incidence rates in African Americans than whites; for virtually all sites, it reflects poorer survival due to later stage at diagnosis and less access to appropriate and timely treatment. Addressing and overcoming cancer disparities remains a top concern and priority for the American Cancer Society.
Health Care a Key
One way to combat the problem of later stage diagnosis is to improve access to quality health care.
"There's a real need for programs to address health disparity," said Natasha Coleman, Division Director of Strategic Health Initiatives for the American Cancer Society of New York and New Jersey. "It is essential for everyone to receive access to quality health care, no matter what your race or economic status; we want people to know that there are resources available to receive adequate access to screening, timely diagnosis and treatment."
In New York nearly 2.6 million people are currently uninsured. The American Cancer Society has made access to health care and improving coverage for colon cancer screening a high priority, working with both the federal and state government and private insurers to increase the availability of testing. Under the Colon Treatment Act, anyone diagnosed with colon cancer through the state's cancer screening program will automatically qualify for Medicaid assistance. This law removes fears about paying for treatment as a barrier to screening.
In New Jersey, the New Jersey Cancer Education and Early Detection (CEED) program provides breast, cervical, prostate and colorectal cancer screenings to low income uninsured New Jersey residents. NJ CEED serves an average of 20,000 women annually. CEED screening sites conducted almost 12,000 mammograms, approximately 12,500 pap tests for cervical cancer screenings, over 4,000 colorectal cancer screenings, and more than 1,200 prostate exams for men.
For information on obtaining free cancer screenings in New York or New Jersey contact your American Cancer Society at 1-800-227-2345.
Latinos and Latinas also face gaps
Dr. Deborah Erwin, the Director of Health Disparities in the Cancer Prevention and Population Sciences program at Roswell Park Cancer Institute in Buffalo, NY, was recently awarded a four-year $1.8 million grant from the American Cancer Society - the largest ever awarded to a single researcher in New York and New Jersey. Her work will investigate the effectiveness of an innovative intervention model, "Esperanza y Vida" (which means Hope and Life), in reaching members of the Latino population to increase breast and cervical cancer screening behaviors.
"Latinas in the United States are likely to have higher morbidity and mortality rates for breast and cervical cancers than Anglo women," according to Dr. Erwin, "However; studies show that much of this difference may be due to disparities in screening behaviors, and that culturally appropriate interventions can address some of these disparities."
The "Esperanza y Vida" program will address Latino men and women in rural and urban setting via educational sessions presented in Spanish. Presentations will feature a cancer survivor telling her story to counter the "death sentence" aspect of cancer and to acknowledge the importance of spiritual concerns for Latinas. Also included in these sessions are Latino men. Their role will be twofold: as health educators and participants, to increase their knowledge and understanding of these health issues affecting women and to emphasize the importance of keeping women healthy for the good of the entire family.
Dr. Erwin's research hopes to determine if participants will be more likely to obtain breast and cervical screening after attending the program and also the impact of this intervention on specific demographic and social factors, beliefs, and/or access issues associated with screening.
Call to Action
The American Cancer Society has many efforts underway to address cancer disparities among diverse and medically underserved populations. Addressing these problems remains a key goal. The Society has long funded research to discover culturally relevant prevention tactics, early detection measures, and effective ways to provide equal access to optimal care. Through its Patient Navigator Program, the Society provides trained staff in dozens of hospitals in underserved communities to help cancer patients by arranging transportation to and from treatment, providing referrals to local services like physical therapy or nutrition counseling, or helping patients find any information they need. For more information on ways the American Cancer Society can help you call 1-800-227-2345 or visit cancer.org.
The Martin Luther King, Jr. Holiday celebrates the life and legacy of a man who brought hope and healing to this country. We celebrate the values he taught us through his example ….courage, truth, justice, compassion, dignity, humility and service. On this holiday, we are empowered by Dr. King's spirit to continue the fight against cancer towards a world with more birthdays.
# # #
About the American Cancer Society
The American Cancer Society combines an unyielding passion with nearly a century of experience to save lives and end suffering from cancer. As a global grassroots force of more than three million volunteers, we fight for every birthday threatened by every cancer in every community. We save lives by helping people stay well by preventing cancer or detecting it early; helping people get well by being there for them during and after a cancer diagnosis; by finding cures through investment in groundbreaking discovery; and by fighting back by rallying lawmakers to pass laws to defeat cancer and by rallying communities worldwide to join the fight. As the nations largest non-governmental investor in cancer research, contributing about $3.4 billion, we turn what we know about cancer into what we do. As a result, more than 11 million people in America who have had cancer and countless more who have avoided it will be celebrating birthdays this year. To learn more about us or to get help, call us anytime, day or night, at 1-800-227-2345 or visit cancer.org.