Quitting Goes Viral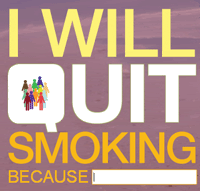 Eastern Division | CancerNYNJ Newsroom | News Updates | Contact Us
New Website Spearheads Online Community Effort to Stop Smoking
IWillQuit.org invites users to let their motivation motivate others to kick the habit
NEW YORK, NY (November 15, 2010) — The American Cancer Society has revealed a momentous initiative to celebrate the Great American Smokeout on November 18, 2010: IWillQuit.org. The website, which is the brainchild of healthcare marketing communications firm Core-Create, prompts users to pledge to quit smoking and enter their motivation for doing so. It is the central component of a multifaceted campaign designed to breach the boundaries of typical "stop smoking" ads by providing users with an interactive platform, deeply motivational message and cutting edge technology.
IWillQuit.org recognizes and builds on the understanding that every smoker has his or her own personal reason to quit. Combined with heartening imagery, the website invites smokers to rethink their lifestyle and fill in the blank: "I will quit smoking because ____." The user's reason will become part of a larger motivational bank that is categorized and tracked. The user will then be brought to a page that charts these categories, thus offering a sense of community and support for the audience to see they're not alone. Users will also be given the option to enter their e-mail address to receive American Cancer Society quit tips and additional support.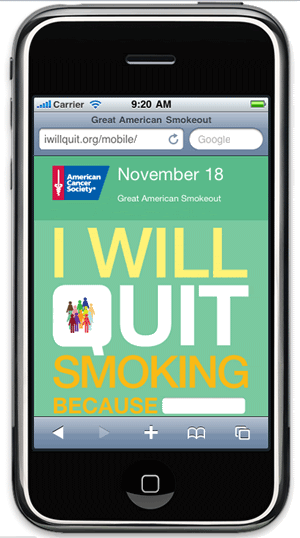 Use your smart phone to help you quit smoking
And as a first in Great American Smokeout history, outdoor PSA posters throughout New York City will include a QR code so that viewers can take immediate action and go to IWillQuit.org instantly from their cell phones, choose a reason to quit and track how many others chose the same motivation. "The QR technology is relatively new in this industry, but we see it as an opportunity to successfully engage patients in a way we have not been able to until now," said Dorene Weisenstein, Core-Create's Executive Vice President and Chief Creative Officer.
IWillQuit.org comes at a critical time when budget constraints are forcing states to trim smoking cessation efforts, which could have a potentially catastrophic impact on public health. The American Cancer Society recognizes that quitting smoking is one of the most important steps in creating a world with less cancer and more birthdays. Research shows that one-third of cancer deaths could be prevented if people avoided tobacco products and smokers who quit can add up to 8 years onto their lives.
"The Great American Smokeout does more than urge smokers to quit for a single day or a few months -- it encourages people to help create a world with less cancer and more birthdays by committing to making a long-term plan to quit for good," says Kristina Thomson, Interim Vice President of Cancer Control for the American Cancer Society of New York and New Jersey.
Tobacco use remains the single largest preventable cause of disease and premature death in the United States. Each year, smoking accounts for an estimated 443,000 premature deaths – including 49,400 deaths among nonsmokers as a result of secondhand smoke. Tobacco use increases the risk of at least 15 types of cancer, and 30 percent of all cancer deaths.
To learn more about the Great American Smokeout, visit cancer.org/smokeout
# # #
About the American Cancer Society
The American Cancer Society combines an unyielding passion with nearly a century of experience to save lives and end suffering from cancer. As a global grassroots force of more than three million volunteers, we fight for every birthday threatened by every cancer in every community. We save lives by helping people stay well by preventing cancer or detecting it early; helping people get well by being there for them during and after a cancer diagnosis; by finding cures through investment in groundbreaking discovery; and by fighting back by rallying lawmakers to pass laws to defeat cancer and by rallying communities worldwide to join the fight. As the nations largest non-governmental investor in cancer research, contributing about $3.4 billion, we turn what we know about cancer into what we do. As a result, more than 11 million people in America who have had cancer and countless more who have avoided it will be celebrating birthdays this year. To learn more about us or to get help, call us anytime, day or night, at 1-800-227-2345 or visit cancer.org.