Five Unsaintly St. Patrick's Day Foods
Eastern Division | CancerNYNJ Newsroom | News Updates | Contact Us
No Blarney, These St. Patrick's Day Favorites Can Be Unlucky for Your Health
From leprechauns to shamrocks…. it seems that there is a wee bit o' Irish in all of us at St.Patrick's Day! But it's not just about wearing green on March 17th. Holiday parties and family dinners would not be complete without traditional Irish and Irish-American dishes. But the American Cancer Society wants folks to know that if you're looking for that pot of gold at the end of the rainbow watch out for these foods that can be unlucky to your health.
March is National Nutrition Month and good nutrition is an important way to help lower your cancer risk. According to the American Cancer Society, a healthy diet that is low in fat, high in fiber, with lots of fruits and vegetables, has been shown to help reduce the probability of developing cancer. Popular St. Patrick's Day foods like corned beef, salt potatoes are just some of the traditional holiday fair that have sometimes surprisingly high contents of fat, sodium and more.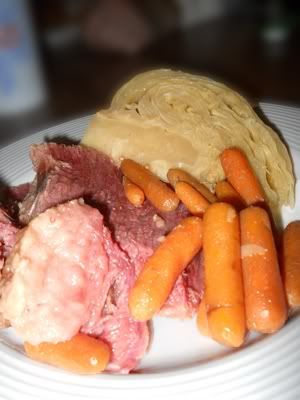 Corned Beef
Each year, families gather with their loved ones on St. Patrick's Day to share a "traditional" meal of corned beef and cabbage. Due to the way corned beef is prepared, a serving of corned beef and cabbage is very high in sodium -- one serving contains almost the entire daily limit. A portion of this dish has 1,110 mg of sodium, although this amount may vary if you use lower-sodium corned beef. You may also make this dish at home, substituting a different type of beef to cut down on your sodium intake. Consuming more than 1,500 mg of sodium per day regularly can have negative health consequences.
###

About the American Cancer Society
The American Cancer Society combines an unyielding passion with nearly a century of experience to save lives and end suffering from cancer. As a global grassroots force of more than three million volunteers, we fight for every birthday threatened by every cancer in every community. We save lives by helping people stay well by preventing cancer or detecting it early; helping people get well by being there for them during and after a cancer diagnosis; by finding cures through investment in groundbreaking discovery; and by fighting back by rallying lawmakers to pass laws to defeat cancer and by rallying communities worldwide to join the fight. As the nation's largest non-governmental investor in cancer research, contributing more than $3.4 billion, we turn what we know about cancer into what we do. As a result, more than 11 million people in America who have had cancer and countless more who have avoided it will be celebrating birthdays this year. To learn more about us or to get help, call us any time, day or night, at 1-800-227-2345 or visit cancer.org.