New Surgeon General Report Urges People to Stop Smoking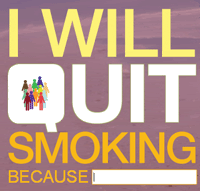 Eastern Division | CancerNYNJ Newsroom | News Updates | Contact Us
Declare Your Resolution to Quit at IWillQuit.org
New York, NY (December 9, 2010) — As the evidence, including this morning's new Surgeon General report, continues to mount against smoking, the American Cancer Society is offering a new way for smokers to breaking their tobacco addiction utilizing the Internet.

The process of quitting can be intimidating and many smokers may feel alone in their efforts- but a new website is proving that's not the case. Would-be non-smokers are invited to declare their resolution with the world and help create a community of virtual support on the American Cancer Society's IWillQuit.org.

IWillQuit.org, which is the brainchild of healthcare marketing communications firm Core-Create, recognizes and builds on the understanding that every smoker has his or her own personal reason to quit. The site invites smokers to rethink their lifestyle and fill in the blank: "I will quit smoking because ____." Their reason will become part of a larger motivational bank that is categorized and tracked. The user will then be brought to a page that charts these categories, thus offering a sense of community and support for the audience to see they're not alone. Users will also be given the option to enter their e-mail address to receive American Cancer Society quit tips and additional support.

"Quitting smoking is a rough, personal process. But this website will show users that they're not alone- that there's someone else out there who is facing this challenge with them," says Kristina Thomson, Interim Vice President of Cancer Control for the American Cancer Society of New York and New Jersey. "By making this pledge and sharing your motivation to quit, you're giving strength to someone else. That's a powerful thing."

IWillQuit.org comes at a critical time when budget constraints are forcing states to trim smoking cessation efforts, which could have a potentially catastrophic impact on public health. The American Cancer Society recognizes that quitting smoking is one of the most important steps in creating a world with less cancer and more birthdays, as research shows that one-third of cancer deaths could be prevented if people avoided tobacco products and smokers who quit can add up to 8 years onto their lives.

Tobacco use remains the single largest preventable cause of disease and premature death in the United States. Each year, smoking accounts for an estimated 443,000 premature deaths – including 49,400 deaths among nonsmokers as a result of secondhand smoke. Tobacco use increases the risk of at least 15 types of cancer, and 30 percent of all cancer deaths.

A new warning from the U.S. Surgeon General, released on December 9th, stated that smoking even one cigarette is harmful to a person's DNA. It also declared that even brief exposure to secondhand smoke from can be equally dangerous to the body's cells.
To join the movement and pledge your resolution to quit smoking, visit http://www.iwillquit.org.

# # #
About the American Cancer Society
The American Cancer Society combines an unyielding passion with nearly a century of experience to save lives and end suffering from cancer. As a global grassroots force of more than three million volunteers, we fight for every birthday threatened by every cancer in every community. We save lives by helping people stay well by preventing cancer or detecting it early; helping people get well by being there for them during and after a cancer diagnosis; by finding cures through investment in groundbreaking discovery; and by fighting back by rallying lawmakers to pass laws to defeat cancer and by rallying communities worldwide to join the fight. As the nations largest non-governmental investor in cancer research, contributing about $3.4 billion, we turn what we know about cancer into what we do. As a result, more than 11 million people in America who have had cancer and countless more who have avoided it will be celebrating birthdays this year. To learn more about us or to get help, call us anytime, day or night, at 1-800-227-2345 or visit cancer.org.