Childhood Cancer Survivor Care Makes Progress, Faces Hurdles
Jun 26, 2014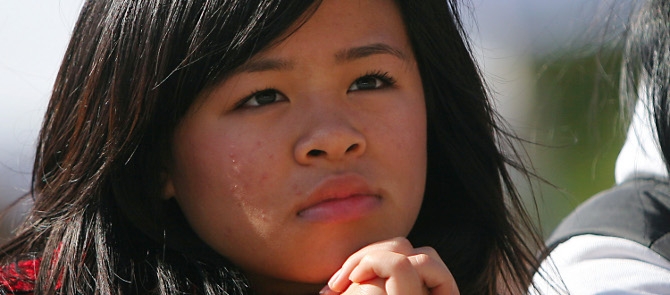 Undergoing cancer treatment at a young age is uniquely challenging. And for the children, adolescents, and young adults who survive cancer, the difficulties do not end when their treatment is complete. Radiation, chemotherapy, and other cancer treatments often leave long-lasting side effects in their wake. Health problems can range from heart and lung damage to developmental issues.
More research is needed on these "late effects." But doctors and researchers face unique challenges in trying to study this population of survivors. One issue is that the number of childhood cancer survivors is relatively small compared with the adult cancer survivor population, making it hard for researchers to conduct large-scale scientific studies. This population is also more mobile and harder to find. Adolescents and young adults in particular move around a lot and are less likely to have a "cancer home," according to Ashley Wilder Smith, Ph.D., a National Cancer Institute researcher focused on adolescent and young adult (AYA) cancer survivors.
Smith spoke about the progress and challenges in addressing the gaps in cancer survivorship care and research among the AYA population at the 7th Biennial Cancer Survivorship Research Conference, convened June 18-20 by the American Cancer Society, National Cancer Institute, LIVESTRONG Foundation, and Centers for Disease Control and Prevention. She said her "big question" is: "How are AYA survivors just like, but not at all like other cancer survivors."
Some of the ways in which this population's survivorship care is unique, according to Smith, include the need for:
long-term, ongoing detection and management of late effects and new cancers,
a focus on fertility preservation and maintenance,
coordinating their care as they age and go from the pediatric to adult care environment,
managing risky behaviors – like smoking and drinking – that can further hinder their survivorship,
and addressing financial difficulties such as getting and keeping health insurance, paying for care, as well as challenges with education and employment.
These problems don't occur in isolation. Smith said young cancer survivors can face "all of these issues all at once." Not only that, but also adolescents and young adults must grapple with these challenges while they are still growing and developing and trying to become independent adults.
The economic burden on this population is particularly strong, said Smith. She noted that the average annual medical spending for adolescent and young adult cancer survivors is $7,417 compared to $4,247 for adults without a history of cancer. They are also more likely to be unemployed or unable to work. In her own study of AYA survivors, Smith found that 30% to 40% reported that their cancer negatively impacted their education and/or employment plans.
Collaboration Can Help Overcome Research Challenges
Smith said more research is needed on this population in order for doctors and others to get the information they need to help AYA survivors lead their best lives possible. A key way of overcoming the hurdles in studying this group of survivors is increased collaboration across organizations, according to Smith.
Melissa M. Hudson, M.D., director of the cancer survivorship division at St. Jude's Children's Research Hospital also emphasized the importance of collaboration at the conference. She spoke about the global effort to help address the gaps in knowledge about the long-term outcomes for childhood cancer survivors.
Hudson is a core member of the International Late Effects of Childhood Cancer Guideline Harmonization Group, IGHG. The group's overarching goal is to create a consistent worldwide strategy for monitoring and improving the lives of childhood cancer survivors. To accomplish this, IGHG develops international guidelines doctors can use for providing long-term follow-up care to childhood, adolescent, and young adult cancer survivors.
The guidelines include information about ongoing screening tests that survivors of different cancer types may need. Hudson said improving these guidelines will mean studying childhood cancer survivors for longer periods of time. "There are gaps in knowledge about the long-term outcomes; we need to monitor childhood cancer survivors long into adulthood to address these gaps," Hudson said.
IGHG this year published "harmonized guidelines" for breast cancer surveillance in childhood cancer survivors to address the increased risk that female childhood, adolescent, and young adult cancer survivors treated with radiation in the chest region face. The group is also working on at least 10 other sets of guidelines. Efforts like this highlight the increased attention researchers and doctors are giving to survivors of childhood, adolescent, and young adult cancers. Smith predicts even more progress will occur over the next 5 to 10 years. "There are more researchers interested in and recognizing this population of survivors – and there is more research collaboration now," Smith said.
 
Give us your feedback
Thank you for your feedback.
American Cancer Society news stories are copyrighted material and are not intended to be used as press releases. For reprint requests, please see our Content Usage Policy.