Growing Cancer Survivor Population Needs New Models of Care
Jun 1, 2014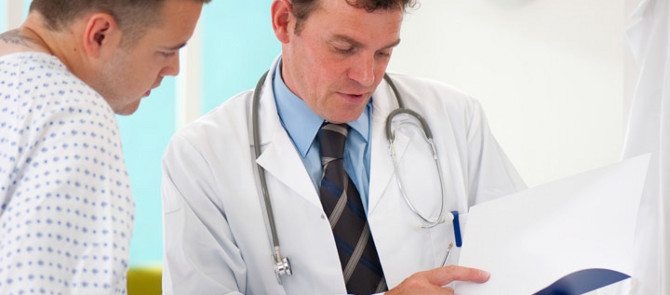 The number of cancer survivors is the United States is growing rapidly. As this population grows, ensuring they have the right care and support is becoming increasingly important.
Researchers, doctors, and health organizations are working on improving and adding to the resources and systems available for helping cancer survivors live the best lives possible. Many leading survivorship experts will be working to advance these goals at the upcoming 7th Biennial Cancer Survivorship Research Conference.
In this interview, American Cancer Society researcher and cancer survivorship expert Kevin Stein, Ph.D., provides insights into the challenges cancer survivors face and the research that needs to be done to advance the quality of care this growing population receives.

Q. More Americans are surviving cancer than ever before, with more than 14 million survivors in the United States today and that figure is expected to increase to about 19 million by 2024. What are the most significant challenges health providers face in terms of caring for this population?
A. I think the most significant challenges are identifying ideal models for survivorship care and management of side effects that appear or last long after treatment has ended. A broader issue, though, is that there is already a shortage of primary care providers and oncology professionals and with the population of cancer survivors growing, the system will become further taxed.
That said, this presents opportunities for providing additional training and education to primary care doctors to understand the unique issues, risk factors and concerns that long-term cancer survivors face. In fact, the American Cancer Society, in collaboration with the George Washington University Cancer Institute, has produced a series of e-learning videos for primary care physicians that are available through the National Cancer Survivorship Resource Center. These provide education to primary care providers around survivorship issues and a model for how the American Cancer Society and other organizations may be able to help these providers feel prepared to manage the unique needs of long-term cancer survivors. Along these lines, the Society is also developing and publishing a series of cancer site-specific survivorship care guidelines directed at primary care providers. These will be rolling out over the next couple of years.
We also need to look at how survivorship issues are being handled internationally so that we can learn from others. For example, the UK is using a "triage" model, in which they identify post-treatment cancer survivors as low, moderate, or high in terms of their needs and then they triage them to the appropriate care setting. So people with low care needs may end up in a self-management setting and those with high needs might go into a more intensive care setting to get more attention.
The scientific issue we need to address includes being able to identify the prevalence of long-term and late effects and the risk factors associated with them. We also need to be able to differentiate between chronic conditions that are from cancer versus those that are coming from the normal aging process.
Q. What kinds of resources exist today to help survivors navigate life after cancer – and achieve a high quality of life?
A. The landscape is developing and there is growing recognition that survivors need adequate information to manage their disease and associated problems. Various patient advocacy and survivorship advocacy organizations have developed materials for cancer survivors. For example, the American Cancer Society has a number of programs and services directed toward cancer survivors, such as the Cancer Survivors Network – an online peer community of more than 174,000 cancer survivors who can interact with and support one another. The American Cancer Society, in partnership with the George Washington University Cancer Center, also offers the National Cancer Survivorship Resource Center, which houses resources for survivors and also for providers and advocates.
There is also the Cancer Support Community, programs offered through CancerCare and Livestrong, as well as local community services provided through various facilities. And, in some large urban areas, major cancer centers offer survivors' clinics. The Moffitt Cancer Center, in Tampa, and Memorial Sloan-Kettering Cancer Center, in New York City, are two examples of cancer centers that offer dedicated survivor clinics that are focused on helping post-treatment cancer survivors navigate the survivor experience. There are several others, but they are mostly limited to urban areas and this is still an underdeveloped and growing area.
Q. How important is it that survivors maintain and even improve their health behaviors, including exercising and eating well?
A. It is very important that cancer survivors in particular lead healthy lifestyles because they are at increased risk for a number of additional diseases and conditions as the result of the cancer treatments they received, including second cancers. Engaging in a healthy lifestyle, including maintaining a healthy weight, eating primarily a plant-based diet, exercising regularly, complying with cancer screening guidelines, and avoiding tobacco and alcohol will reduce their risk of developing other health problems. Specifically, obesity, smoking and alcohol have been associated with higher risk for a number of cancers. The other added benefit is that healthy lifestyle is associated with improved mental functioning and overall quality of life.
Q. What are the most important areas of research right now when it comes to cancer survivorship?
A. I think the most important research area is identifying the optimal models of care for post-treatment cancer survivors in terms of helping them manage chronic long-term and late effects. We also need to understand the causes, prevalence, and risk factors associated with long-term and late effects.
One of the big challenges right now is getting cancer survivors to engage in healthy lifestyles and also maintain the positive changes they do make. So while we have shown we can help survivors make healthy behavior changes, we have had a more difficult time helping survivors maintain those positive gains over time.
We also need more research around the implementation and dissemination of evidence-based interventions through existing public health channels. What we need to do now is take what we know works in the clinical lab setting and get it out to the larger population of cancer survivors to have a positive impact on overall public health.
Q. How do you see survivorship care changing – and improving – over the next 3 to 5 years?
A. Survivorship care is still very fragmented and cancer survivors are forced to go to multiple providers – who often don't communicate with each other – to get adequate care. Greater integration of care across providers and identifying a "medical home" where a survivor clearly understands who is in charge of their care may facilitate more efficient and effective management of their symptoms, side effects, and overall wellbeing. I hope survivorship care will move in this direction in the next 5 to 10 years.
I think we have to learn from our colleagues here in the U.S. and in other countries about different ways of identifying who needs what. So for those survivors who have greater needs, we need models that provide intensive care whereas for those who can manage their own needs, they can receive fewer services. We also need cost effective models of care to limit the burden on the healthcare system.
Lastly, we need more research around the best use of survivorship care plans, which provide a summary of a patient's treatments and a plan for ongoing monitoring of their health.
Give us your feedback
Thank you for your feedback.
American Cancer Society news stories are copyrighted material and are not intended to be used as press releases. For reprint requests, please see our Content Usage Policy.