Seven Key Findings From 8-Year Study of Cancer Caregivers
November 27, 2013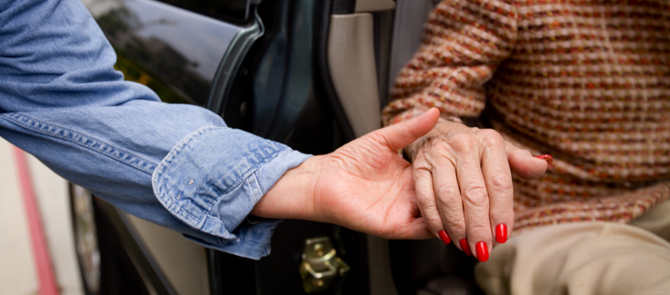 Millions of Americans are affected by cancer every year. These include not only those who are diagnosed with the disease, but also their loved ones – parents, spouses, adult children – many of whom end up taking on the role of caregiver.
To better understand the effects of cancer on the quality of life of caregivers, the American Cancer Society's Behavioral Research Center conducted an 8-year study – the American Cancer Society National Quality of Life Survey for Caregivers – initiated in 2002. It is the largest nationwide, long-term study of its kind, encompassing surveys of nearly 2,000 cancer caregivers.
American Cancer Society researchers have to date published more than 25 unique studies of this dataset and continue to analyze the results.
One of the survey's lead researchers, Rachel Cannady, a scientist with the American Cancer Society Behavioral Research Center, reviewed all of the discoveries she and her team have made. The following are the seven findings that Cannady thinks are the most important thus far, and her takeaways:
1. Fear of cancer coming back is a two-way street: Caregivers' emotional distress and fear of cancer recurrence affects the quality of life of survivors – and vice versa.
Cannady: "Interventions aimed at decreasing anxiety about cancer recurrence would benefit both the survivor and caregiver. Guided meditation is an example of a successful technique for reducing stress in caregivers."
2. Caregiving is valuable: On average, cancer caregivers studied spent about 8 hours per day providing care. The value of their time can equate to tens of thousands of dollars per year, depending on how much care the person needs.
Cannady: "To alleviate the time costs, caregivers can recruit help from other family members or friends, or find respite services to share care."
3. Caregivers may have unrealistic expectations: Some cancer caregivers feel they should be doing more than is realistic, creating a sense of guilt, which is linked to an overall poorer quality of life.
Cannady: "Guilt typically goes hand-in-hand with being overwhelmed. In order to restore a sense of meaning about the caregiving experience, it is extremely important for caregivers to prioritize their own emotional and physical needs, so they are better able to provide quality care to the survivor. Taking time away, perhaps once a week, to do something for oneself is highly encouraged."
4. Caregivers can find meaning in their experience: Family caregivers see their loved one's cancer or even death from the disease as an opportunity to reflect on life's purpose – and sometimes gain a new appreciation for it.
Cannady: "Meaning-centered therapy has been proven effective in reducing the distress associated with providing care, and helping caregivers find meaning and peace in their caregiving experience."
5. Caregivers need a strong support system: Cancer caregivers who have to face a loved one's recurrence of cancer or death from cancer are better equipped to handle these situations if they have a solid system of support in place.
Cannady: "While it may be obvious that those who have more support have a better quality of life, our study shows that this holds true and is even more important when you're dealing with the serious health condition of a close family member or friend. Caregivers can strengthen their support system to help improve their situation. There are many options out there, including the online community Cancer Survivors Network."
6. As caregivers, husbands, wives each have strengths: Husbands and wives face different challenges. Husbands tend to feel better than wives do about themselves as cancer caregivers. But wives do better than husbands when it comes to dealing with the emotional distress and social withdrawal of the person for whom they are caring.
Cannady: "Men tend to be 'fixers' when things aren't right, so when a husband sees his wife struggling with cancer, he might try to fix the situation rather than help her adjust to it. Husband caregivers would benefit from interventions that educate them on how to cope with their wife's distress around having cancer."
7. Caregiving is demanding: Women caregivers who have multiple competing demands – are employed outside the home, are also taking care of children, etc. – report experiencing more stress from caregiving than do those without as many demands. They also report higher levels of caregiver guilt.
Cannady: "Women in the 'sandwich generation' (people who care for aging parents and their own children at the same time) tend to be professional jugglers. Finding additional help from family and friends would potentially alleviate the burden caused by multiple responsibilities."

Explore more findings from the National Quality of Life Survey for Caregivers.
American Cancer Society news stories are copyrighted material and are not intended to be used as press releases. For reprint requests, please see our Content Usage Policy.