Survivor Guidelines Give Patients, Doctors Care Roadmap
Jul 3, 2014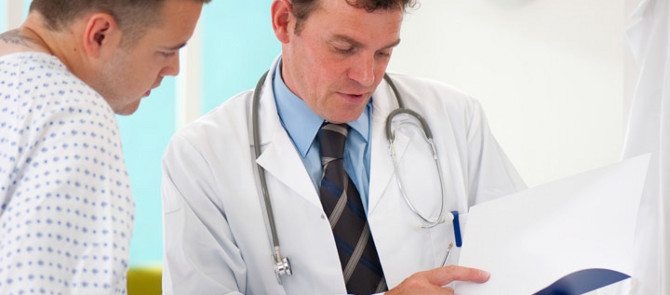 When a patient's active cancer treatment ends, this doesn't mean the cancer journey is over. As survivors transition out of active treatment, they – and their primary care providers – need to carefully monitor their health.
For example, cancer survivors may face recurrence and are more likely to develop other cancers, meaning they need to be vigilant about getting appropriate screening tests. Many survivors also develop health problems related to their cancer treatment, such as heart issues or infertility, that don't show up until later – known as late effects .
Ensuring survivors are getting the long-term follow-up care they need is becoming increasingly important as this population is growing and living longer. To provide a better quality of life for these patients, several organizations in recent years have put together guidelines for their care.
An expert panel discussed these guidelines and ways to make them more effective at the 7th Biennial Cancer Survivorship Research Conference, convened June 18-20 by the American Cancer Society, National Cancer Institute, LIVESTRONG Foundation, and Centers for Disease Control and Prevention.
The panelists, including leadership from LIVESTRONG, the National Cancer Institute, and the American Cancer Society, expressed enthusiasm about the increasing amount of guidance available for cancer survivors' health care, but pointed out that many patients and doctors remain unaware of these resources.
Julia Rowland, Ph.D., director of the office of survivorship at the National Cancer Institute, provided insights into the cancer survivor guidelines landscape:
A major hurdle is getting information about the issues survivors face into the hands of primary care doctors. Awareness is one problem. American Cancer Society Chief Cancer Control Officer Richard Wender, M.D., noted that many primary care physicians are actually not aware that symptoms, such as fatigue, are common among survivors.
But, even for those doctors who are aware, most still don't feel knowledgeable enough on the topic. "A big challenge is many providers know they should be doing these things, but it isn't something they have been schooled in and they don't know how to give expert consultations," said Mary McCabe, R.N., director of the cancer survivorship initiative at the Memorial Sloan Kettering Cancer Center.
Doctors, though, desire more information, according to Wender. "Practitioners are hungry to really get greater insight and guidance into their role in helping cancer survivors live their highest quality life and address some of these symptoms."
The panelists also said that patients too need to be armed with as much information about their follow-up care as possible. "All of these guidelines are going to be translated for patients and families because they [the authoring organizations] recognize these need to be in the hands of both parties," Rowland said.
More broadly, the panelists expressed the need for a more integrated, patient-centered approach to cancer survivorship care – which should also include insurance companies. Panelist Patricia Ganz, M.D., director of the patients and survivors program at the UCLA Jonsson Comprehensive Cancer Center, said that survivors' treatment summaries and care plans can be a communication vehicle for providers, patients, and insurers. Doctors, Ganz noted, can send the patient's care plan, along with a set of survivorship guidelines to support what is outlined in the plan, to an insurance company to get their care approved.
Ultimately, the panelists concluded that these guidelines and care plans are on a path to creating a common language and approach to survivorship care, but greater adoption and more consistent use is needed.
Give us your feedback
Thank you for your feedback.
American Cancer Society news stories are copyrighted material and are not intended to be used as press releases. For reprint requests, please see our Content Usage Policy.