ACS Helps Patients, Caregivers Save $12 Million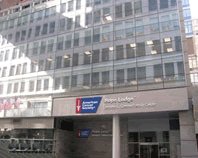 Eastern Division | CancerNYNJ Newsroom | News Updates | Contact Us
Hope Lodge in New York City Celebrates its 3rd Birthday this Holiday season
NEW YORK, NY (November, 2010) – The American Cancer Society's Hope Lodge in New York City is celebrating a world with more birthdays and less cancer as Hope Lodge turns 3 years old.
Facing cancer is one of life's greatest challenges. Finding an affordable, supportive place to stay during treatment shouldn't be. Three years after opening its doors Hope Lodge in New York City continues to give the gift of hope by saving cancer patients and their families approximately $12 million since 2007.
More than just lodging, Hope Lodge eases the emotional and financial hardships faced by many cancer patients while providing a supportive environment and sense of community. An average night in a New York City hotel exceeds $250 per night. In 3 years Hope Lodge has served nearly 5,000 cancer patients and their caregivers from 25 countries and 46 states. That's nearly 50,000 nights of lodging since opening day!
Hope Lodge guests chat in the kitchen area
A cancer diagnosis is, indisputably, one of life's greatest challenges. Finding the best immediate treatment becomes a patient's first priority, which sometimes means having to travel away from home to a cancer treatment facility in another city. The American Cancer Society's Hope Lodge makes this difficult situation easier for cancer patients and their families whose best hope for a cure lies in New York City's cancer treatment facilities.
"Many of our patients and families have traveled far away from home to receive treatment. Hope Lodge is a home -away –from-home during these tough times," said Don Distasio, CEO of the American Cancer Society of New York and New Jersey. "The holidays can be especially difficult and can introduce some unique challenges for families coping with cancer. Our goal is to make that burden a little lighter so that our guests can focus on what's most important, getting well."
Just minutes away from some of the nation's most reputable cancer centers, the New York City facility, is located at 132 West 32nd Street. In addition to lodging, guests also have access to communal kitchens, activity rooms, and laundry facilities and are invited to participate in American Cancer Society programs, special shared meals and yoga classes. All Hope Lodge services – lodging and support programs – are offered completely free of charge.
Reservation requests for the Hope Lodge New York City are made through medical treatment providers. The American Cancer Society partners with the major cancer centers in New York City to identify patients with the greatest need for accommodations.
There are currently 30 Hope Lodge locations throughout the United States including three in New York State (Buffalo, Rochester and Manhattan). To find a Hope Lodge and to learn more about a specific facility, please call the American Cancer Society toll free at 1-800-227-2345 or visit online at www.cancer.org/hopelodgenyc. You can also follow Hope Lodge New York City on Facebook.
# # #
About the American Cancer Society
The American Cancer Society combines an unyielding passion with nearly a century of experience to save lives and end suffering from cancer. As a global grassroots force of more than three million volunteers, we fight for every birthday threatened by every cancer in every community. We save lives by helping people stay well by preventing cancer or detecting it early; helping people get well by being there for them during and after a cancer diagnosis; by finding cures through investment in groundbreaking discovery; and by fighting back by rallying lawmakers to pass laws to defeat cancer and by rallying communities worldwide to join the fight. As the nations largest non-governmental investor in cancer research, contributing about $3.4 billion, we turn what we know about cancer into what we do. As a result, more than 11 million people in America who have had cancer and countless more who have avoided it will be celebrating birthdays this year. To learn more about us or to get help, call us anytime, day or night, at 1-800-227-2345 or visit cancer.org.