American Cancer Society Hope Lodge—
Baltimore, MD
Stories & Comments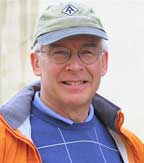 In 2001 I was diagnosed with prostate cancer. I decided to have my prostate removed and was fortunate to live close enough to Johns Hopkins Hospital to have the operation performed by a Brady Clinic surgeon. For eight years my PSA was non-detected. Then in 2009 it ticked up a little and I decided to return to JHH for external beam radiation treatments.
 
During my first stay at Hopkins, where to stay was not an issue; I was in the hospital, and the stay was relatively brief. The second time I would need to be there every weekday morning for 39 treatments. Although we could have traveled each day from Carlisle PA, the time on the road would have consumed most of the working day (and I had to continue to make a living at my consulting practice). My wife and I decided to stay at Hope Lodge, and were very pleased with the experience during my treatment from Thanksgiving 2010 through January 2011.
 
Last summer I rode in the Pennsylvania Perimeter Ride to benefit the American Cancer Society. The 75 riders completed 500 miles over 6 days and raised more than $150,000. I was happy to be able to participate in this event, and to be able to help American Cancer Society in its mission. I am now two years with no PSA, working hard and eating right. And holding American Cancer Society and all of the people who work for the organization - employees and volunteers - in my heart.
 
D. Sheridan, PA
Volunteer Story
Hope Lodge to receive $10,000 gift through Exelon employee volunteer awards program
Thanks to volunteer and survivor Barbara Palmer, the Baltimore, Md., Hope Lodge will receive a $10,000 gift from Exelon as part of the company's Employee Volunteer Awards program.

Each year, the company conducts the program where 18 of its employees are selected for a Volunteer Award. In honor of these employees' commitment to the community, Exelon donates a total of $150,000 in contributions to the nonprofits they serve. Nonprofits receive grants of $5,000, $10,000, or $20,000.

Barbara works for BGE, which is part of Exelon. She began volunteering for the American Cancer Society in 1994 and was recruited in 2007 for the Making Strides Against Breast Cancer event. A two-time breast cancer survivor, Barbara quickly became an advocate for the Society and its programs and services, giving a great deal of her time to the Society's Hope Lodge in Baltimore.

"Barbara is what we call a Hope Lodge Ambassador. That means no job is too big or small," shares Karen Seaberry, Baltimore Hope Lodge Manager. "She will sit at the front desk, volunteer at Society events, and will even go out into the community and speak on our behalf."

In addition to her work with Hope Lodge, Barbara has also been the survivor speaker for Making Strides, appeared on local news shows for interviews, and is certified to do breast cancer workshops for the Society, which she has done at her work. "I always try to share with people what the Society does and what they can offer to cancer patients and survivors," Barbara says.

Barbara and a representative from the Society's Hope Lodge will attend a special awards luncheon in May where she will receive her award and the $10,000 gift will be presented.

"Exelon is an amazing company that promotes community service and supports local non-profits in an exceptional manner," Karen adds. "Dedicated donors like Exelon are the driving force behind significant progress against cancer and we are honored to be one of this year's recipients."



Guest Story
Finding Friends and Healing at Hope Lodge

When Natalie Johnson learned she had an aggressive form of breast cancer, her world was turned upside down. But the support of a new "family" at Hope Lodge offered stability and support.
The single Staten Island resident chose Johns Hopkins Hospital in Baltimore for surgery and three months of chemotherapy mainly because of its proximity to family and friends. Still -- Natalie felt alone. Then she learned about Hope Lodge.
"You might compare it to the best college living situation you could ever imagine. Cancer survivors shared feelings, cooked for one another, and did laundry for one another. There was always someone to talk with at midnight," she recalled.
Throughout Natalie's chemotherapy treatments, it wasn't 24-hour-a-day medical care that she and fellow Hope Lodge guests needed. It was access to 24-hour-a-day support.
But the unofficial emotional support will be the bond formed between guests.
"When we weren't trading war stories, crying on shoulders, or digging through medical books, we played games, took day trips, and shared secrets," said Natalie. "The caring atmosphere is so real -- the strong care for the weak."
Natalie believes Hope Lodge helps cancer patients feel normal. "Being bald was hip," she said. "Having hair at Hope Lodge was strange."
Two years after her initial stay, she speaks fondly about her adopted Hope Lodge family -- Lou the van driver who took guests to the Amish market, Cathy, who brought Maryland crab soup, Brenda, who kept everyone laughing, Karen, who planned activities, and Stacy, who was always there to hold a hand.
Guest & Visitor Comments
Hope Lodge is a glimmering star in the dark sky of confusion surrounding a cancer diagnosis.  The value of Hope Lodge is equal to many of the high class hotels.  Nothing can replace the comfort of such places to rest and recover.  - F.I., Chantilly, VA
The Hope Lodge is a loving, caring place for people in need of help, company and companionship.  I met so many wonderful people in my same situation and that makes the time and treatments bearable.  It is like coming home every day to friends.  - N.S. , Maryland
Hope Lodge gave me peace of mind knowing I could get the best treatment and stay close to the hospital. - K. Beck (MD) 2010
My experience at Hope Lodge was wonderful. I loved the accommodations, staff, dinners, the Library and best of all, meeting new friends. - L. King 2010
We feel blessed ... being in a setting where we can talk, laugh and even cry with others in our same or similar situation has made our stay much easier ... This has been a ministry of love. - Hope lodge Guest 2008
The whole experience here, the staff, people, the camaraderie and the compassion, really did give you a sense of hope everyday that you are going to get through this. I don't know what I would have done without Hope Lodge. - Hope Lodge Guest 2005
It is encouraging to know that we didn't have to face our cancer journey alone. - Hope Lodge guest 2006