Lymphoma Survivor Shares Positive Outlook
Published on:

May 14, 2020
Staying positive, even with an outlook that seems impossible, is the most important thing any of us can do. Enjoying the moments right in front of us is the best way to navigate the worst outlook.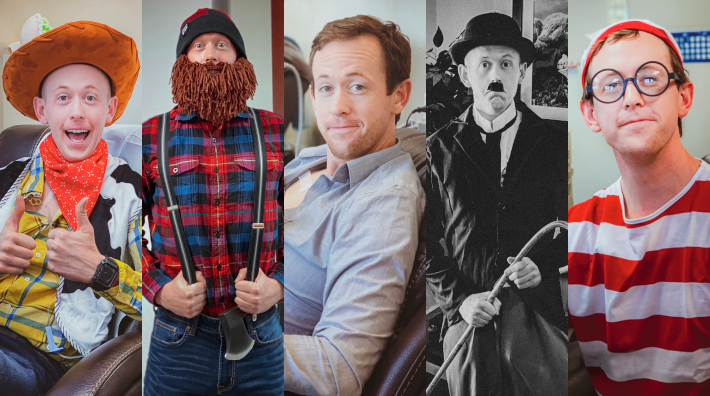 Rex Jones says he didn't ask to get cancer, but since he couldn't escape it, he figured he may as well make the most out of a bad situation. So for each of his chemotherapy appointments, he dressed up in a different costume, including Woody from "Toy Story,' silent film star Charlie Chaplin, and Waldo from the Where's Waldo books. "It gave me a way to put a positive spin on something that is inherently negative and discouraging," he said. "The medical staff got a kick out of it and the other patients in the infusion room went nuts."
"It was such a silly little thing, to dress up as a child might, and treat the whole thing like a big circus, but it provided a way to help both myself and others stay positive," said Jones. "Staying positive, even with an outlook that seems impossible, is the most important thing any of us can do. Enjoying the moments right in front of us is the best way to navigate the worst outlook."
'You have Hodgkin lymphoma'
Jones was 30 years old, healthy and active when he was diagnosed with Hodgkin lymphoma in 2019. His first symptom was a painful lump about the size of a pea in his left armpit. His doctor said it was probably an infection and prescribed antibiotics. But the lump grew to the size of a golf ball and the pain got worse. Jones then had tests and procedures, including a biopsy and surgery to remove lymph nodes, a bone marrow biopsy, blood work, PET scan, and ultrasound. He was diagnosed with Stage 1B Hodgkin lymphoma. The early stage meant the cancer had not spread beyond the lymph nodes under his arm.  
"'You have Hodgkin lymphoma' was the only phrase I remember hearing," said Jones. "The rest basically went in one ear and out the other. My heart was pounding so hard, my entire body felt like it went numb. I knew in that moment that there was a very real chance that I could die."
Jones' treatment included chemotherapy and radiation. He says fatigue was the worst side effect. He also had nausea and lost his hair. But Jones was more concerned about his caregivers than about himself. "Cancer is hard on everyone and I didn't want to make things worse for my nurses," said Jones. "So I decided to just goof off and have as much fun as possible. Where the idea for the chemo costumes came from, I don't know. I just thought it was a hilarious idea and I ran with it."
Jones was treated in Utah, where his parents, brothers, and sisters helped support him. His employers also were supportive. At the time of his diagnosis, he was working in Oregon doing maintenance around cell phone towers, with a territory that covered the entire western third of the United States. But when he told his employers about his treatment schedule, they redesigned everyone's routes so he would never be more than 4 hours away from his doctors in Utah.
Making lasting memories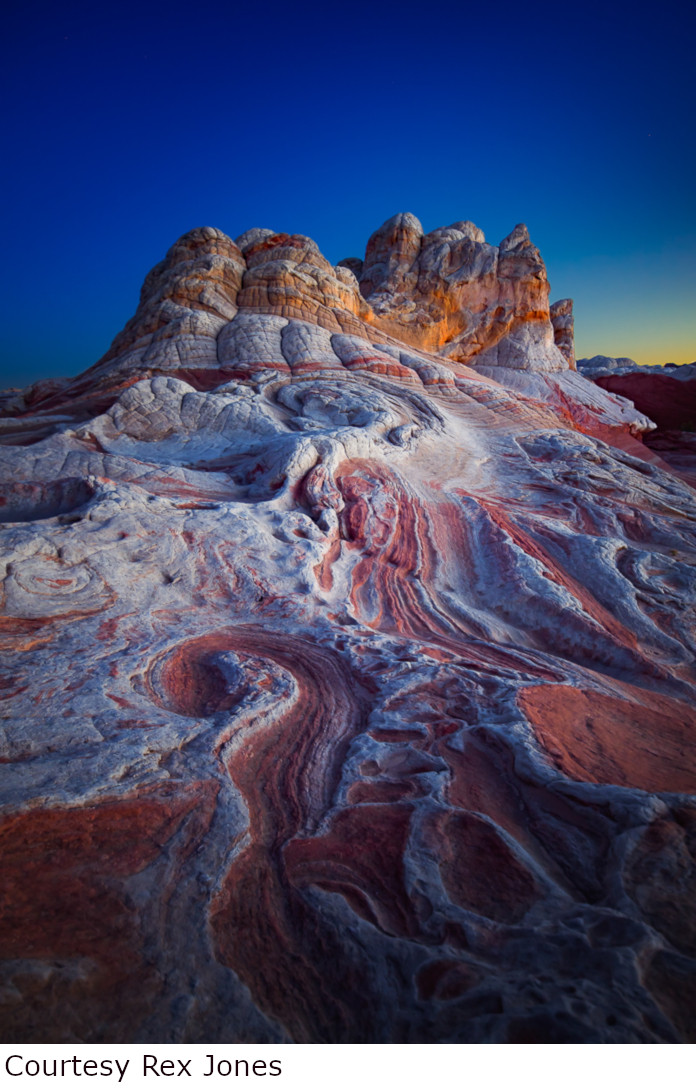 An accomplished photographer, Jones' landscape photos have been published in National Geographic including one taken in an area of the Vermillion Cliffs National Monument known as "White Pocket" near the Arizona/Utah border. It's an area he knows well: He also works part time as a tour guide taking other photographers to his favorite locations to get their shots.
Recently Jones combined his knowledge of the landscape with his skill as a photographer to start a nonprofit foundation called "Lasting Memories." He takes cancer patients and their families on nature adventures, where he shoots one-of-a-kind portraits of them. "I wanted to provide them with a break from clinics and hospitals and take epic photos that no other photographer can do," he said. "Most people can't afford high-end portraits because their medical expenses add up so quickly. I can give them a unique adventure they wouldn't be able to do on their own and that no one else could provide."
Hearing others' stories helped put his own experience into perspective. "It doesn't matter how bad it gets – there is always someone who has it worse," said Jones. "Be grateful for what's right in front of you. Enjoy the moment because there is no point in stressing about tomorrow. If you ruin today, then you've lost today."
After effects
The coronavirus pandemic has forced Jones to put the photo shoots on hold while he works on a plan for resuming them safely. "Cancer doesn't wait, so I want to still try and do them, but it has to be strategic and careful," he said.
He also has to take extra precautions against the virus because the lymphoma and chemo weakened his immune system and treatments damaged his lungs. He also has lymphedema, which causes swelling in his left arm and hand. His doctors are not yet sure whether any of these side effects will be temporary or permanent. Although Jones has health insurance, he says he's going to be paying medical bills for a long time.
But he keeps finding reasons to stay positive. He had his last radiation treatment 3 months ago. During a follow-up appointment, the doctor told Jones he was in remission – his tests showed no more evidence of cancer. "It was a big relief," said Jones. "I felt exactly opposite of how I felt when I was given the diagnosis. Now I can go back to normal, though my life will never be the same again. I feel like I'm done with that battle and now I can move on to different battles."
Back to normal for Jones means going back on the road for his job. But it doesn't mean the end of his medical appointments. He has another follow-up in 6 months. If everything is OK, he'll go back in a year, and then every year for the next 5 years. And yes, he plans to dress up in new "chemo costumes" to cheer up the doctors, nurses, and cancer patients when he goes for his follow-up visits. He may, however, start calling them "remission costumes."
Reviewed by
Submit your story

Due to the impact of COVID-19 on American Cancer Society resources, we are no longer able to review new submissions for Stories of Hope.
American Cancer Society news stories are copyrighted material and are not intended to be used as press releases. For reprint requests, please see our Content Usage Policy.