Assistant Scientist
Study Management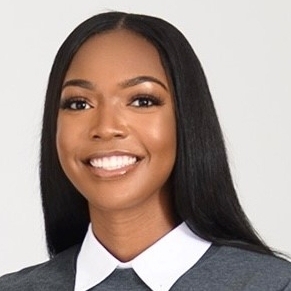 Using Creativity to Boost Mission
I'm excited to be a part of a team that the community depends on so heavily for cancer research. It's truly inspiring to know that the work done here at ACS can positively affect so many lives. I'm motivated from seeing research results and the progress ACS has made thus far. Knowing that this research can shift people's perspective on cancer and encourage them to continue this fight for a world without it is amazing. I feel impelled to learn more about cancer because I know any new knowledge I acquire can help others. I can't wait to incorporate my creativity into future studies and push ACS's mission forward."
At ACS since 2021
As an Assistant Scientist in Study Management, Bijion Cooke, BS, collects new information from Cancer Prevention Study 3 (CPS- 3) participants by phone and email to complete participant's chart updates. Being the voice of the CPS-3 allows her to address any questions participants have regarding the CPS-3 survey.
Cooke makes updates in the tracking system using software systems such as Excel and Lexis Nexis to ensure participants can continue to be part of the study. More specifically, she assists with data cleanup and quality control processes. She makes note of any new cancer diagnosis the participant reports, so their information can be used in ACS research about how to prevent cancer and help improve the lives of cancer survivors.
Research focus and accomplishments
My first research work was as an intern for the Office of Community Engaged Research and Practice during my senior year as an undergraduate. I worked with a team to send a survey to all College of Public Health staff.
Once we received the data, I cleaned and analyzed it using SPSS statistics software for a dataset of more than 140 cases. I drafted a report to highlight the survey's results, which included a visual representation of the data with pie charts I designed using Excel software.
I also conducted a literature review on community-engaged research approaches that address nutrition and healthy living of African Americans living in low-income communities. Through analysis, I was able to see the correlation of their health and nutrition habits based on the environments they lived in.
In the PowerPoint presentation of my research, I used the data to propose that a new healthy eating program be created within these African American communities.
My research at ACS follows a similar methodology. I'm helping send CPS-3 participants a survey with questions about diet and lifestyle. Their responses will help us gain information about participants' eating habits, which will improve our ability to provide them with the information they need to decrease their likelihood of being diagnosed with cancer. Each person we can help contributes to our end goal—a world without cancer.
Contact 
Work before ACS

DC Department of Health, Emerging Health Leader
Unity Health Care, Front Desk Representative
Temple University Office of Community Engaged Research and Practice, Research Intern
Education

BS: Public Health, Temple University, 2021
Personal life 
I was born and raised in Southeast  DC.  My first year living in Atlanta was 2021. I love listening to music, going to concerts, traveling, and I'm really into fashion. Being creative makes me really happy.