Senior Principal Scientist
Survivorship Research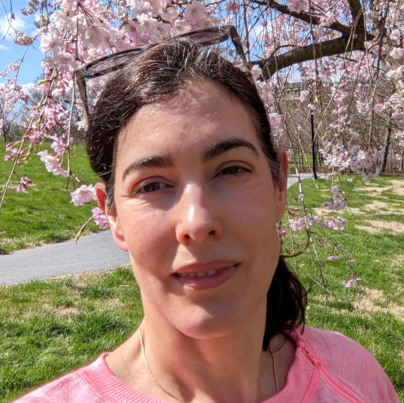 My Inspiration for Becoming a Cancer Researcher
When I was little, I saw my mother going to the hospital and staying there for days. That early experience made me want to find ways to minimize the suffering of patients and sparked my interest in health sciences. Cancer is a genetic disease, and I want to understand how our environment and daily activities affect those genes so that we can find ways to improve people's lives after cancer diagnosis."
At ACS since 2023
As a Senior Principal Scientist, Clara Bodelon, PhD, MS, leads research projects in survivorship epidemiology of female cancers, with a special focus on breast and ovarian cancers. She collaborates with other scientists in the American Cancer Society's Population Science department to understand the role of genetic, molecular, and other factors that can help cancer survivors lead a  long high quality of life.
Research focus and accomplishments
I conduct integrative analyses of genetic, lifestyle, and environmental factors to better understand how they affect outcomes. Findings from studies like these can help personalize treatment and help improve prevention recommendations for people with cancer.
For example, I led a study where I identified molecular subtypes of ovarian cancer, and these subtypes were related to cancer survival. This research has the potential to impact clinical decision making of the type of ovarian cancer and the treatment needed. For this work, I received an award from the American Associations for Cancer Research (AACR) and was invited to present my work in a symposium.  I also received an outstanding research paper award by the Division of Cancer Epidemiology and Genetics, at the National Cancer Institute.
I have also led large studies pooling data from several international studies. In one of them, I looked at whether methylation profiles and methylation-derived scores of breast cancer risk factors were associated with a future risk of breast cancer. I am also leading a consortium study in the Ovarian Cancer Association Consortium (OCAC) where I am investigating how the timing and joint effects of pregnancy and the use of oral contraceptive affect the risk for ovarian cancer. I have received an award from the AACR for my presentation of this work.
More recently, I have lead studies looking at the effect of breast cancer treatment on mammographic density, second cancers, and mortality in breast cancer survivors.
My work has received multiple research excellence awards from the National Institutes of Health.
Publications
For a complete list of Dr. Bodelon's publications, visit her Google Scholar page.
Contact 
Education

PhD: Mathematics, Boston University
MS: Epidemiology, University of Washington
BS: Mathematics, Universitat Autonoma de Barcelona