Scientist Director
Cancer Risk Factors & Screening Surveillance Research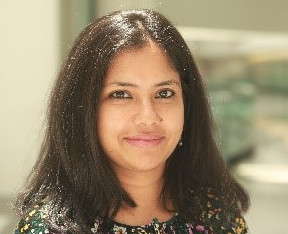 More than an estimated 40% of all cancer cases and deaths are linked to major modifiable risk factors and are therefore potentially preventable. Cancer screenings can additionally save many lives. Yet, progress in cancer prevention and early detection has been far from equitable. ACS's commitment to addressing these inequities within research and practice is what inspires me to give my best as a researcher."
At ACS since 2019
As Scientific Director, Priti Bandi, PhD, leads the cancer risk factors and screening research team in the Surveillance & Health Equity Science department. She directs team members in research focused on the surveillance of major modifiable cancer risk factors, HPV vaccination, and cancer screenings. Additionally, her team produces the biennial Cancer Prevention & Early Detection Facts & Figures, and its accompanying scientific article. 
Research focus and accomplishments
Bandi's research takes an interdisciplinary lens combining work across surveillance, health services, and policy. She studies patterns of cancer risk factors, preventive behaviors, screenings, and how they relate to evolving patterns of cancer incidence and mortality, always with a focus on social inequities in these outcomes. She also studies factors that contribute to these inequities and is especially interested in the role of societal and health policy factors.  
The ultimate goal of her research is to inform policies and programs that will help reduce inequities in cancer outcomes.
Publications
Bandi is part of the team that updates and publishes the Cancer Prevention & Early Detection (CPED) Facts & Figures bi-annually and is a contributing author to other ACS surveillance publications.
She's authored more than 50 peer-reviewed publications and 3 book chapters. For a full list of Dr. Bandi's publications, visit her Google Scholar page.
Contact 
Work before ACS
New York University, Adjunct Instructor, Graduate Research Assistant
American Cancer Society, Epidemiologist
Wisconsin Comprehensive Cancer Center, Graduate Research Assistant
Professional organizations
Society for Nicotine & Tobacco Research, Health Disparities Network, Advisory Committee member and Co-chair
Education
PhD: Public Health, College of Global Public Health, New York University, 2019
MS: Population Health, University of Wisconsin-Madison, 2004
BE: Biomedical Engineering, Osmania University, Hyderabad, India, 2002