Zhiyuan (Jason) Zheng, PhD
Senior Principal Scientist
Health Services Research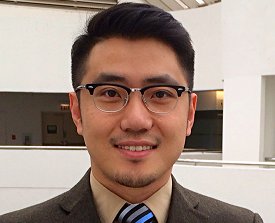 I'm amazed by the rapid developments and progress in artificial intelligence and big data fields—and their potential to advance public health research. As a health services researcher, I would love to use advanced data analytics and machine learning techniques to examine social determinants of health and financial hardship among cancer patients and their families."
At ACS since 2013
As Senior Principal Scientist and Health Economist, Zhiyuan (Jason) Zheng, PhD, works with other researchers at the American Cancer Society (ACS) on projects designed to improve our understanding of what's required for high quality health care—from patients, health care providers, and health care systems.
Zheng serves as an internal ACS expert in health economics and acts as a spokesperson to the media. He also collaborates with health economists from the National Cancer Institute, the Centers for Disease Control and Prevention, Agency for Health Research and Quality, and Kaiser Family Foundation.
Research focus and accomplishments
Zheng's research focuses on the financial hardship among cancer patients, survivors, and their families. He examines health care costs as barriers to optimal cancer care and primary care, as well as the effects of public health policies on the economic burden of cancer, such as unemployment and workers' loss of productivity. He specifically evaluates:
Costs, especially high out-of-pocket costs, that may relate to patients' non-adherence to treatments
Patterns of cancer care
Health insurance benefit design, including high-deductible health plans and health savings accounts
He is expanding his research to include non-medical financial hardship, and more broadly, how addressing social determinants of health may help reduce health disparities. His work assesses the influence of factors at homes, schools, workplaces, neighborhoods, and communities, as well as food insecurities, which includes the availability of affordable and healthy foods.
Zheng uses real world data to evaluate differences in health outcomes of alternative cancer treatments, and he conducts observational studies including thousands of patients, providers, and hospitals designed to provide evidence that complements knowledge gained from clinical trials.
Publications
For a full list of Dr. Zheng's publications, visit his Google Scholar page.  
Contact 
Work before ACS

Pharmaceutical Health Services Research Department, University of Maryland School of Pharmacy, Assistant Professor
Education
Postdoctoral Fellow: University of Maryland School of Pharmacy, 2011-2013
PhD: Economics (Applied Econometrics), Virginia Tech, 2006-2011