Another Promising Neuroblastoma Discovery
Sep 1, 2016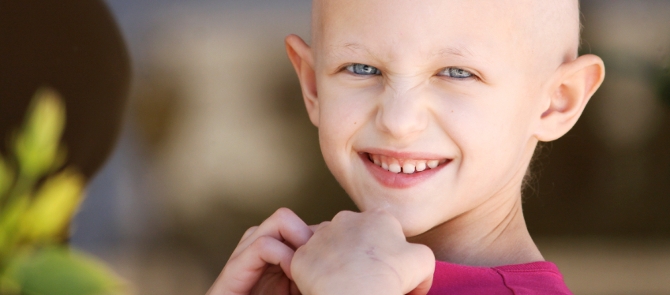 Neuroblastoma may be a rare childhood cancer, accounting for about 6% of cases, but it is by far the most common cancer in the very young. On average, children are diagnosed around ages 1 or 2. While survival rates have improved considerably over the past 40 years, there is still much room for improvement: Current treatments don't always work, and they can have many long-term side effects.
The American Cancer Society is committed to research that can help kids with neuroblastoma live longer, healthier lives. One ACS-funded researcher, Andras Heczey, MD, is working toward a clinical trial for neuroblastoma. And another grantee, Edward Chan, MD, published findings about a promising new discovery in the August issue of Molecular Cancer Research.
Chan and colleagues identified a previously undiscovered genetic mutation in neuroblastoma. This, in turn, led to the discovery of a unique protein on the surface of neuroblastoma tumor cells. Chan hopes this protein will be a target for cancer treatment.
"There have been a lot of new cancer medications that target changes in cancer genes. Potentially this discovery might lead to treatment that's targeted to the change that we found," says Chan.
Specifically, he is referring to a mutation in EGFR, or epidermal growth factor receptor. High levels of EGFR correlate with aggressive growth in tumors. Some cancer drugs effectively target EGFR, but these drugs don't always work when EGFR develops mutations.
Chan and colleagues demonstrated for the first time that neuroblastoma cells produce a known EGFR mutation as well as a novel one they're calling EGFR∆768. Chan says it's the latter mutation, which has unique properties, that could become a target for a new EGFR inhibiting drug.
However, "finding a mutation doesn't necessarily mean that the tumor depends on it to grow," says Chan, who is wrapping up his professorship at Stony Brook University School of Medicine in New York to join a biopharmaceutical company in California. "After this discovery it would be important for the next step to demonstrate that by targeting this mutation, we can actually kill the neuroblastoma cells."
Give us your feedback
Thank you for your feedback.