Discovery of New Lung Cancer Mutations May Mean More Treatment Options
July 25, 2014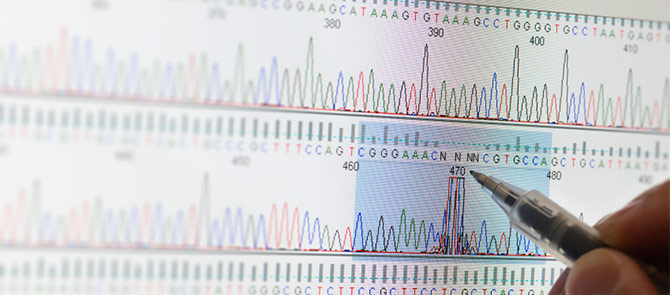 The identification of 4 new types of genetic mutations in the most common form of lung cancer could open the door for targeted treatment options for many more patients. This discovery adds to the existing scope of known lung cancer mutations.
When doctors know that a patient's lung cancer has specific genetic mutations, they can selectively target it with certain drugs. If the cancer doesn't have any of these mutations, the doctor is left with fewer treatment options.
Now, according to researchers, more than 75% of lung adenocarcinoma patients have been found to have genetic alterations that doctors might be able to use to help inform treatment decisions. Previously, that figure stood at 62%. There are more than 224,000 new cases of lung cancer each year in the U.S. and nearly 160,000 deaths from it, meaning this increase in known mutations has the potential to impact a large number of patients.
The 4 new mutations are detailed in a study published online July 9, 2014 in the journal Nature. The research team analyzed 230 lung adenocarcinoma tumor samples from The Cancer Genome Atlas (TCGA), a project of the National Institutes of Health.
"Two out of the 4 new mutations have been linked to lung cancer in some capacity previously and there are already some drugs out there for them – so there is some immediate potential for treatment," says Alice Berger, Ph.D., a researcher at the Dana-Farber Cancer Institute and co-author on the study. Berger's work on the investigation that led to the findings is funded in part by a $150,000 grant from the American Cancer Society. The other 2 newly discovered mutations present opportunities and impetus for the development of new drugs, according to Berger.
"If you don't have an existing known mutation, once you stop responding to chemotherapy, then clinicians are in the dark about what else to try, but now, with knowledge of these other genetic alterations, it will give clinicians better options," says Berger.
Spurred to Search for Remaining Mutations
For Berger, beyond the ability to now target the newly identified mutations, the findings showcase the value of continuing to look for specific genetic mutations that are causing lung cancer. "It continues to motivate us to do more sequencing to increase the power of our studies so we can identify rare mutations that may be very relevant for the remaining 24% [of lung adenocarcinoma patients] with tumors with still unknown mutations," says Berger.
The study findings and the continuation of Berger's work cataloging the genes that are most important in lung cancer will lead to doctors "being able to manage more patients in a personalized manner," says William Phelps, PhD, director of preclinical and translational cancer research at the American Cancer Society.
Finding new genetic targets for lung cancer – or any cancer – is no small task, though. "There are really an astonishingly high number of mutations in every person's tumor," says Berger. "So, we have identified thousands and thousands, but the question is: how many are important and shared in tumors?"
Getting to an answer requires extensive sequencing of large numbers of tumor samples, something The Cancer Genome Atlas project is uniquely structured to do, adds Berger. And, it is not just about sequencing DNA anymore. Berger and her partners were also able to sequence the RNA of the tumor samples.
The ability to look at both DNA and RNA data is what "really enabled us to identify some of these newer alterations, because for some specific cases there are things that would have been hard to detect only in DNA," says Berger. "We can now get a fuller picture of what is going on in these tumors."
American Cancer Society news stories are copyrighted material and are not intended to be used as press releases. For reprint requests, please see our Content Usage Policy.