Pediatric Oncology Social Workers Help Families Move From Fear to Hope
Sep 8, 2014
For the thousands of children and adolescents grappling with cancer, the shock of diagnosis and the complexities of undergoing intensive treatment at such a young age require specialized and highly coordinated care.
While doctors and nurses focus a good deal of their attention on treating the disease, it is a different member of the care team who often helps children and their families deal with the psychological, financial, and other practical issues that accompany cancer. This team member is frequently a social worker trained in pediatric cancer care.
These specialized social workers help families cope with every part of the cancer journey – from understanding the diagnosis and treatment plan, to navigating financial, social, and emotional issues, to assisting with the child's transition back to school and regular activities after his or her care is complete.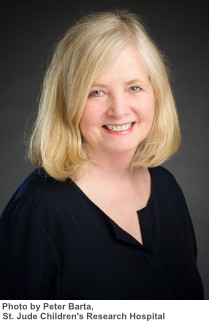 Beverly Bagwell, LCSW, who has been a pediatric oncology social worker at St. Jude Children's Research Hospital for more than 15 years, knows the intricacies of this journey very well.
"Any time you get a diagnosis of cancer, you have to deal with fear and the common reaction of: Is my cancer treatable, am I going to die," says Bagwell. "Children, to different degrees based on their developmental level, experience this fear – and families experience this fear." That is, says Bagwell, until they are able to get the information and support they need to help them "know there is hope."
"So one of the main jobs of a pediatric oncology social worker is finding out what this child's particular diagnosis is and what the parent and child can hope for."
Bagwell notes that during her tenure in the field, the treatment outcomes for children with cancer have changed significantly. "Things have changed so much since I came to St. Jude, because our children are surviving more and more."
"Whereas the emphasis would have been many years ago on preparing a family for terminal care, we are now dealing with helping the family see this more in terms of a chronic illness and getting through the treatment and coming out on the other side with a child who is healthy in all aspects – academically, socially, and physically.
"So we are focused on moving from the fear to dealing with how do we get a child through this and come out on the other end healthy."
Dealing With Family Dynamics
"When families bring a child to a cancer treatment center they are also bringing with them their family history," says Bagwell. But, she says social workers are uniquely trained in counseling and childhood development, which helps them see the child in the context of the family.
"We are checking to see who makes up this family – and in the case of families that are not intact, who has the authority to even make these decisions and sign."
Bagwell says social workers also assess any pre-existing challenges a family may have been facing before their child was diagnosed with cancer. These might include problems with mental illness, substance abuse, or domestic violence. "Our families sometimes come in with multiple issues before they even get here and then you add the most stressful thing that can happen to a family and that is a child with a life threatening illness – that is a lot to deal with."
"So, pediatric oncology social workers have a dual role of helping families map this out and problem solve, but they also have a clinical role in the sense of helping them emotionally deal with the diagnosis and this impact on the family," says Bagwell.
Building a Qualified Pediatric Oncology Social Worker Pipeline
For Bagwell, getting more social workers into the field of pediatric cancer is vital – as is ensuring these professionals obtain the right type of training. "There is a big difference when we are able to hire a social worker who has had training in pediatric oncology versus when we have to do on-the-job training," says Bagwell.
Bagwell is not only a long-time pediatric oncology social worker, but also has deep expertise in teaching the next generation of social workers in this field. She helps oversee St. Jude's training program for social work graduate students, which has been supported in part by an American Cancer Society grant since 1993.
This institutional grant, which the Society gives to numerous hospitals and other healthcare sites throughout the United States, provides funding to support the training of second-year master's degree students. These grants help ensure that the students learn about the special needs of cancer patients and their families, and enter the workforce prepared to provide pediatric or adult clinical cancer care.
Through the St. Jude program, students "learn about pediatric oncology and then they also learn about the systems within a hospital," says Bagwell. For example, social work interns are trained on how to handle privacy issues and informed consent, especially in regard to research protocols, which is applicable to the treatment of many children with cancer.
"They learn the medical terminology, how to interact with different disciplines that make up the medical team and then learn how to apply that all with their work with the families," says Bagwell.
Staying Inspired
"Even on the difficult days and through the tough situations you can balance that with the joy and the hope you see all around you," says Bagwell. She draws her strength from the children she helps. "Their resilience in the face of having to go through this – they are going through something that we as adults can't even always imagine – and you get your strength and your hope from them."
"And, when you see them flourishing and returning to school and being successful, and as years go by seeing less and less serious side effects of their treatment, it is very encouraging."
"It is a very rewarding field," says Bagwell, and "when people get into this field, they don't want to leave it."
Give us your feedback
Thank you for your feedback.