Pioneering Colorectal Cancer Research
Mar 23, 2016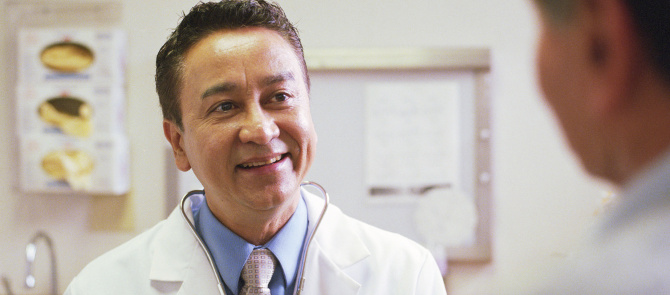 March is Colorectal Cancer Awareness Month, a time to learn to learn about your risk for the disease, talk to your doctor about screening, and commit (or recommit) to the healthy lifestyle habits that may help prevent colorectal cancer. This month also presents an opportunity to talk about the research to prevent, treat, and cure colorectal cancer. Here's a look at 4 areas where the American Cancer Society has helped pioneer important progress.
Diet: Using lifestyle information collected in 1982 from over one million participants in the Cancer Prevention Study-II (CPS-II), Society epidemiologists found that people whose diets were rich in fruits, vegetables, and high-fiber grains had a lower risk of dying from colon cancer, compared to people with diets low in these foods. Since these findings were published in 1992 in the Journal of the National Cancer Institute, several more landmark studies on lifestyle and colorectal cancer risk from CPS-II and the CPS-II Nutrition Cohort have been published.
Aspirin: The first major scientific study finding lower risk of colorectal cancer among people who used aspirin regularly was performed by Society epidemiologists using data from CPS-II. Findings from this study, published in the New England Journal of Medicine in 1991, have been confirmed by many other studies published over the last 25 years. The American Cancer Society recognizes the evidence that long-term regular aspirin use has both harms and benefits, including reduced risk of colorectal cancer, but does not currently have recommendations for or against aspirin use.
Treatment: One of the most common chemotherapy drugs used to treat colon cancer, 5-fluorouracil (5-FU) was synthesized by longtime Society grantee Charles Heidelberger, PhD, in 1958. In the mid-1990s, the response to 5-FU was found to be enhanced by leukovorin, a compound first used in the treatment of leukemia by American Cancer Research Professor Joseph Bertino, MD.
Genetics: Research teams led by the labs of former grantees Richard Kolodner, PhD, and Bert Vogelstein, MD, independently, were the first to discover a gene responsible for inherited colon cancer in 1993. In its defective form, this gene accounts for 95% of all hereditary colon cancers. These teams also made subsequent discoveries of genes that influence susceptibility to colon cancer. Thanks in part to their findings, there is now a blood test that can identify people who are genetically predisposed to colon cancer as well as a variety of tests for early detection of other cancers.
Research on colorectal cancer, of course, is ongoing. There are currently 97 American Cancer Society grants in effect for colorectal cancer research, and staff scientists at the Society regularly publish new findings about this deadly form of cancer. Read about more research highlights here.
Give us your feedback
Thank you for your feedback.
American Cancer Society news stories are copyrighted material and are not intended to be used as press releases. For reprint requests, please see our Content Usage Policy.