Smartphone Smoking Cessation Apps Need an Upgrade
November 21, 2013
Smokers are increasingly turning to smartphone apps to help them quit. But many of these apps fail to incorporate proven quit-smoking practices, according to an analysis of the 98 most popular iPhone and Android smoking cessation apps.
The American Cancer Society and George Washington University researchers identified the most popular apps as of February 2012 for the study, which was published in the American Journal of Preventive Medicine November 18, 2013.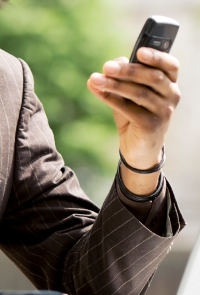 The researchers assessed the quality of the apps based on their adherence to the U.S. Clinical Practice Guideline for Treating Tobacco Use and Dependence. Those guidelines contain recommendations for effective cessation treatment, including using medications and various forms of counseling. They were developed by a panel of federal health agencies and nonprofit organizations.

The apps generally shared three major deficiencies:
None of the apps analyzed included referrals to a quitline, which research has long-proven to be effective in helping smokers get the support they need to quit.
Just 4.1% of the apps made recommendations for approved medications.
Text-messaging, which the authors note is "the most tested and proven application of mobile phones for smoking cessation," was also non-existent in the apps studied.
"I think there is a lack of awareness about proven strategies for quitting smoking and how these might be integrated into an app," says Lorien Abroms, Sc.D., associate professor in the School of Public Health and Health Services at George Washington University and lead author of the study.
There is some good news, though. The researchers found that apps now include more ways for smokers to access social support than was the case in the past.
High-demand for these apps, the study concludes, means that improving their effectiveness presents an "important public health opportunity." The authors estimate that there were nearly 800,000 English-language quit-smoking Android app downloads per month worldwide in 2012.
Despite the issues with current stop-smoking apps, app technology in general, Abroms says, is "really promising" for helping smokers quit. "Apps that build on top of [mobile phone] text messaging programs or find other ways of integrating the clinical practice guidelines, and make use of games and community support features could be very promising."
Lee Westmaas, Ph.D., director of tobacco control research at the American Cancer Society and one of the researchers who worked on the study suggests apps could make use of smartphone GPS technology.

"GPS could conceivably be incorporated into an app so that the user could be notified about places nearby where smoking is permitted and thus should be avoided."
"I can also foresee an app that gauges negative emotions, perhaps through self-report, and responds with messages to help the user avoid relapse (e.g., suggesting a distracting game)," says Westmaas.
For now though, both authors advise caution in using smoking cessation apps. They encourage smokers who want to use such apps to do so in conjunction with other evidence-based programs. Westmaas says smokers are best off using an app that adheres to at least some of the guideline recommendations, such as the NCI QuitPal app, or the Quit For Life app, which have "useful features such as providing quitting tips and providing encouragement for the effort to quit."

American Cancer Society news stories are copyrighted material and are not intended to be used as press releases. For reprint requests, please see our Content Usage Policy.