Three Top Cancer Challenges of the 21st Century
Jan 29, 2015
Although there has been significant progress in the fight against cancer, many of the advancements that have benefited the developed world have yet to take hold in low- and middle-income countries. Additionally, new problems – such as skyrocketing obesity rates – are adding to the cancer burden in countries worldwide. These are some of the challenges detailed in The Cancer Atlas, Second Edition, and accompanying website produced by the American Cancer Society, the International Agency for Research on Cancer, and the Union for International Cancer Control and released in December 2014.
The Cancer Atlas authors analyzed global data on cancer risk factors and the cancer burden to gain insights to help the global cancer community better understand and address the modern pressing challenges in controlling cancer and learn from the experiences of countries around the world.
Below are key takeaways about 3 top cancer challenges that the world is facing in the 21st century.
Obesity Rates Have Skyrocketed Worldwide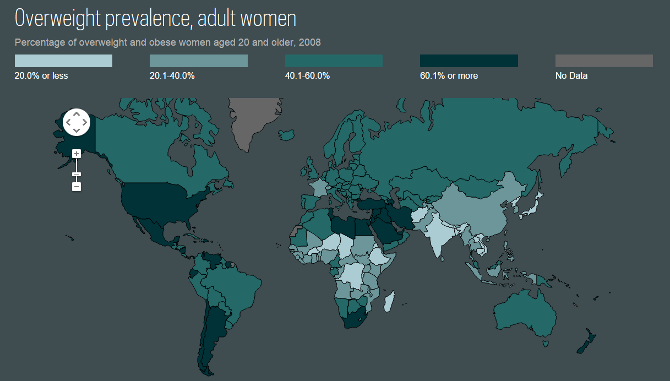 "Obesity is a risk factor for breast (post-menopausal), colorectal, endometrial, kidney, esophageal and pancreatic cancers," according to the Cancer Atlas. Newer research also shows that people who are overweight or are obese may be at greater risk for cancer recurrence and death. Unfortunately, obesity and overweight rates have increased in countries at all income levels.
Physical activity and a healthy diet are the two key ways to reduce the risk of certain cancers. However, the Cancer Atlas notes that: "While personal lifestyle choices can reduce the risk of cancer, governments and civil society also have a responsibility to develop food and economic policies conducive to health, create environments that support physical activity, and develop interventions targeting children and youth."
Tobacco Use Increasing in Developing Countries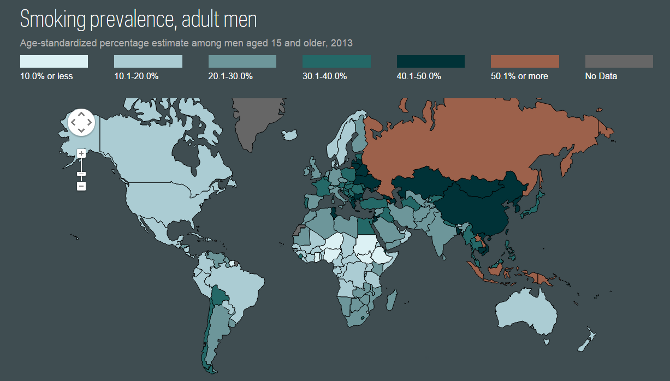 According to the Cancer Atlas, about "1.3 billion people worldwide currently smoke tobacco." Smoking causes many types of cancer. It is also responsible for 1 in 5 deaths from cancer worldwide.
While developed countries, like the United States, have made progress to curb tobacco consumption through increased taxes on tobacco products, bans on certain kinds of advertising, and the adoption of laws to create smoke-free work and public spaces, the tobacco epidemic is worsening in many developing countries. For example, cigarette consumption increased by 57% in the Middle East and Africa from 1990 to 2009. Additionally, few smokers in developing nations are quitting by middle age. "Quitting by middle age can avoid more than 60% of the risk of lung cancer," according to the Cancer Atlas.
"Tax and price policies are often cited as the most effective demand-sided policy," states the Cancer Atlas, meaning they are the best policies for decreasing consumer demand. However, cigarettes have become more affordable in low- and middle-income countries "because taxes and prices have been rising more slowly than increases in incomes."
Access to Cancer Detection and Treatment in Lower-Income Countries Problematic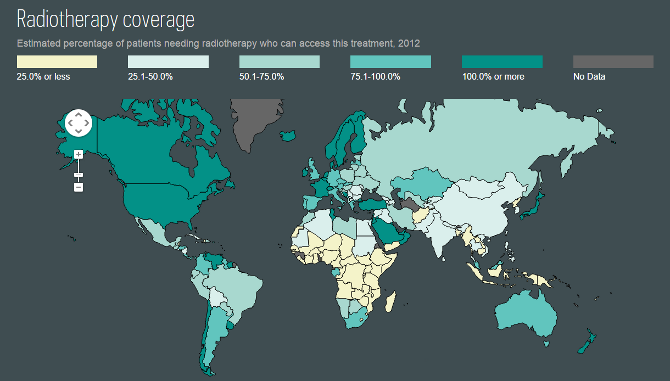 "In low- and middle-income countries, limited access to affordable and quality cancer diagnosis and treatment has contributed to mortality-to-incidence ratios approximately 20% higher than those of industrialized countries," states the Cancer Atlas.
This lack of access is due to both the high costs of cancer care as well as limited healthcare infrastructure and workers to carry it out. For example, in Sub-Saharan Africa, "trained pathologists, oncologists, and oncologic surgeons are exceedingly rare, and surgery is often performed by a general surgeon lacking specialty knowledge of cancer care."
A key example of the cost issue comes in the form of radiotherapy. "Despite approximately 60% of cancer patients being able to benefit at some point during the course of their disease from radiotherapy, this technology is far from being accessible to the 82% of the world's population living in the developing world." About 30 countries in Africa and Southeast Asia have no radiotherapy services at all.
The Cancer Atlas concludes that innovations in cancer care and approaches are going to be necessary to increase access and improve affordability. "Policymakers and several organizations are currently working to expand patient access to therapy and increase the number of trained workforce personnel, although challenges in leveraging existing infrastructure and lowering costs remain."
Explore the Cancer Atlas for insights into how to address these challenges.
American Cancer Society news stories are copyrighted material and are not intended to be used as press releases. For reprint requests, please see our Content Usage Policy.