To Improve Childhood Cancer Care, One Doctor Looks to Social Workers and Chaplains
April 11, 2016
Kelly Michelson, MD, MPH, saves lives in the pediatric intensive care unit (PICU) at the Ann & Robert H. Lurie Children's Hospital of Chicago. She's also teaching a new generation of doctors to care for sick kids, as associate professor of pediatrics in the critical care division of Northwestern University's Feinberg School of Medicine.
Michelson wears many other hats in her field, too, all in pursuit of improving healthcare for both patients and providers. We recently sat down with Michelson to learn more about her American Cancer Society-funded research project, which explores the role of social work and chaplaincy in caring for children with cancer who are admitted to the PICU.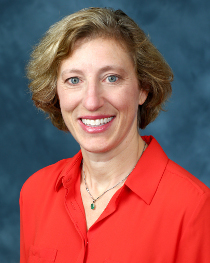 Q: Tell me about your Society-funded project.
A: Basically I'm looking at what social workers and chaplains in the PICU do, primarily with children who have cancer. Ideally I would be a fly on their shoulder to see for myself, but because that's not feasible, this study uses different approaches to get this information: 1) asking them questions about their interactions with the patients/caregivers, 2) having them do a quick recording of what happened when they were visiting with the patient/caregivers, and 3) interviewing parents and inviting them to complete a survey that asks about the role social workers and/or chaplains had on their decision making.
Q: As a physician, what drives you to study social workers and chaplains?
What prompted this work is my feeling that we in the world in healthcare could do a better job of integrating their roles into patient care. I think that social workers and chaplains have an enormous potential to positively impact critically ill children and their families with psychosocial/spiritual/mindfulness/wellness attention. But in my experience these professionals are sometimes off in a silo, away from the work of the doctors and nurses. Social workers especially go through a lot of training, and yet a lot of them are relegated to passing out parking passes and getting caregivers meal tickets. That's a poor use of their background and expertise.
But I'm also a little bit selfish about this. Part of what frustrates me as a physician is that when parents of critically ill children have time with social workers, their communication doesn't make it to the medical team. I don't always know if a social worker has just spent an hour talking to parents, or if what was said might color their interaction and decision making with me.
Q: You've done a lot of research on critically ill children. In terms of family impact, is cancer different than other critical illnesses?
I think the answer is yes for a number of different reasons. Even though most cases of childhood cancer are cured, people still see cancer as a potentially terminal diagnosis even if their prognosis is very good. Cancer is also different because, after their time in the PICU, some patients still face challenging treatments, whereas kids who have been in an automobile accident may have some medical complications, but no looming, "I still have a year of chemo to do."
Q: How do these differences impact the way social workers communicate with PICU patients or parents?
A lot of the social workers and chaplains already have relationships with these families, and I think it makes a huge difference in providing care and comfort. The challenge is improving the way social workers and chaplains communicate with the PICU medical team. I hope that the work I'm doing highlights their enormous value in the PICU, as well as the need to ensure that they are well-integrated into overall patient care.
American Cancer Society news stories are copyrighted material and are not intended to be used as press releases. For reprint requests, please see our Content Usage Policy.