Assistant Scientist
Study Management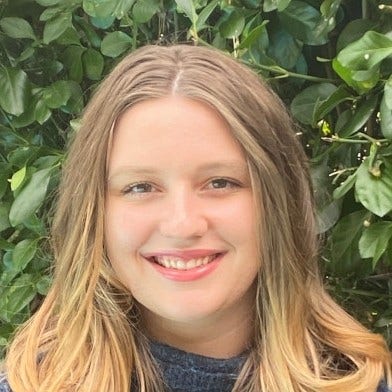 I'm excited to work for the American Cancer Society as my first job out of college. As someone who's spent their whole life interested in research, this role is helping me to fully realize my interests and motivate me in my pursuit of further education and desire to make a change in the world."
At ACS since 2021
As an Assistant Scientist in the Study and Biospecimens Management team within Population Science, Ashley Yeager, BS, aids in the upkeep of the Cancer Prevention Study 3 (CPS-3). More specifically, she helps with the processes of the Accelerometry sub-study, including handling devices and setting up shipments to be sent to participants.
Research focus and accomplishments
My research experience began in my undergraduate education in the world of biochemistry. The research was dedicated to discovering the mechanism of iron uptake in E. coli. Such a discovery could improve the understanding of the bacteria and help lead to the possible development of an antibiotic.
Upon graduating, I began my work here at the American Cancer Society, where my focus is the Accelerometry Sub-study. Its goal is to use data from over 20,000 CPS-3 participants to gain a clearer understanding of the connection between physical activity and the risk of developing certain types of cancer.
Contact 
Work before ACS

University of Georgia: Department of Biochemistry and Molecular Biology, Undergraduate Research Assistant
Education

BS: Biochemistry and molecular biology, minor in public health, University of Georgia, 2021
Personal life 
I live in Marietta, GA, and I spend my free time reading, cooking, weightlifting, and enjoying the company of friends and family.