Senior Director
Study Management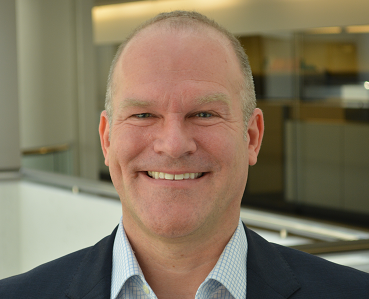 Going the Distance for Research
I've known that the impact of our Cancer Prevention Studies (CPS) research is far-reaching, but it was especially evident to me when the work took me back to my hometown in central New York – and I've travelled the 900 miles twice for CPS study participant events. The CPS-II event took place at the hospital where I was born, and the CPS-3 event was on the track at the high school where I graduated."
At ACS since 1998
Peter Briggs, MPH, leads the American Cancer Society (ACS) Study Management team in Population Science that collects information about cancer outcomes for participants in Cancer Prevention Study-II (CPS-II) and CPS-3. The team uses medical records to abstract relevant diagnostic, prognostic, and treatment data for each cancer diagnosis. They also verify cancer diagnoses by linking with 37 central cancer registries in the United States.

Research focus and accomplishments
Briggs joined the ACS in 1998 to coordinate the collection of 40,000 blood specimens from CPS-II participants at over 300 hospitals in 20 states. 
In 2001, as director of CPS records, he brought the two methods of cancer verification (medical record collection and registry linkage) under his management and eventually expanded this work to include CPS-3. 
For over two decades, Briggs has contributed his knowledge and experience to all major decisions about cancer prevention studies at the ACS. He's been involved with participant consent, data collection, and maintenance for the CPS-II and CPS-3 cohorts. A few of his specific projects include:
Extensive planning and execution of CPS-3 recruitment

Buccal cell collection in CPS-II

Tumor tissue collection in CPS-II and CPS-3
Accelerometry data collection in CPS-3
Work before ACS
Georgia Center for Cancer Statistics, Rollins School of Public Health, Emory University Research Study Supervisor
Education
MPH: Epidemiology, Rollins School of Public Health, Emory University, 2001 
BS: Biology, St. Lawrence University, 1989