Tobacco Control Research
We collaborate with ACS CAN to put both research and evidence-based advocacy in action.
What We Do
The American Cancer Society's (ACS) Tobacco Control Research (TCR) team studies factors in the United States that predict what leads adults and adolescents to start and stop using tobacco products as well as cannabis. We do this by tracking populations' use of conventional tobacco products, such as cigarettes, cigars, and snuff, along with more novel ones, such as e-cigarettes, hookahs, and nicotine pouches.  

For instance, we evaluate and provide evidence about how tobacco control policies at the federal, state, tribal, and local levels affect tobacco use. We conduct ex-ante evaluations of prospective policy changes and ex-post evaluations after policy changes have occurred.
Ex-ante studies help us predict how the policy will affect tobacco use and potential health and economic consequences, and ex-post analyses help us evaluate the results of a tobacco control policy to understand its overall value to individuals, communities, and the nation.
Our Advocacy-Research Collaboration
At the ACS, we study tobacco control and related health and economic policies along with the activities of the tobacco industry through the lens of disparities research.

Our work is closely knit with the tobacco control advocacy efforts led by the American Cancer Society Cancer Action Network (ACS CAN), which is the ACS's nonprofit, nonpartisan advocacy affiliate founded in 2001. 
ACSC AN influences evidence-based policy changes at the federal, state, and local levels as well as with legislative (through laws) and regulatory solutions that will reduce the cancer burden.
We give insight into our joint work as a partnership in action in "An Advocacy-Research Collaboration Model to Inform Evidence-Based Tobacco Control Efforts," published in­ Tobacco Control in January 2023.
Experts with diverse backgrounds from ACS and ACS CAN align on the priorities of tobacco control while considering—or generating—evidence that's related to the intended, unintended, and potential implications of tobacco-control efforts.
We describe our work as both:
Research in action because our studies relate to timely scientific investigations of emerging or ongoing tobacco control milestones.
Evidence-based advocacy in action because we use emerging scientific evidence to inform urgent tobacco control efforts. 
Featured Term: 
Tobacco Control
Tobacco control can involve multiple actions to protect people from the effects of using tobacco products and of exposure to secondhand smoke. These effects can include disease (morbidities), death (mortality), and economic consequences. Tobacco-control actions that countries, states, and cities can make include:
Requiring health warnings on packaging for all types of tobacco
Banning tobacco advertising, promotion, and sponsorship
Banning tobacco sales to minors
Protecting people from exposure to tobacco smoke (such as by having rules about where people can smoke in public places)
Increasing the sales tax on tobacco products to make them less affordable
Promoting tobacco cessation to help people quit smoking or stop using other forms of tobacco
Continuous surveillance of the tobacco-product landscape
These actions may be practiced by federal, state, and local government agencies, community-based organizations, hospitals and clinics, businesses, and households.
A Winning Pair: ACS Tobacco Control Research & ACS CAN Tobacco-Control Policies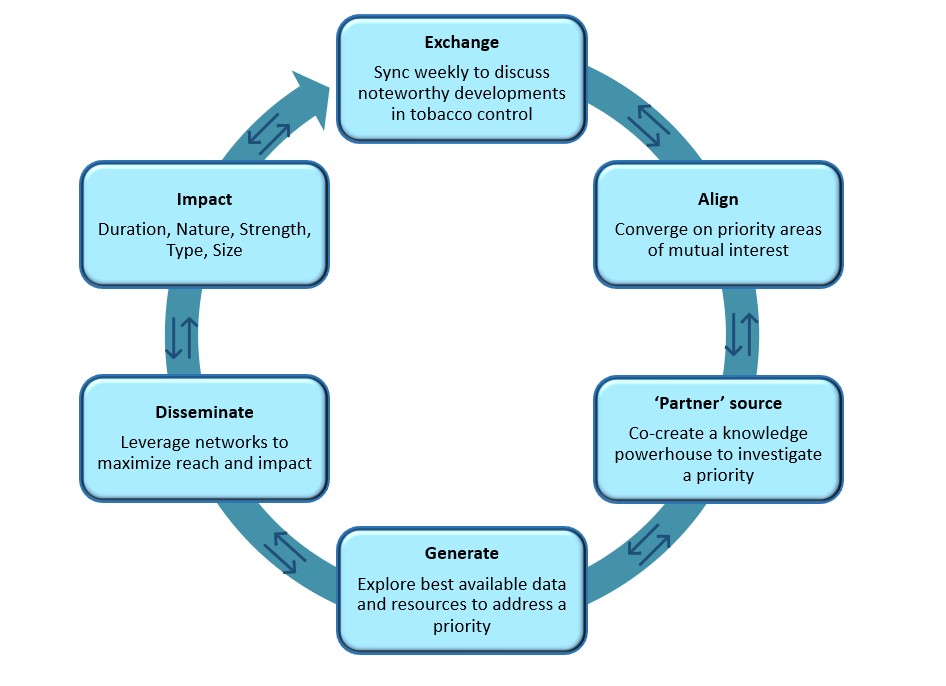 Our ACS Tobacco Control team meets every week with our ACS CAN advocacy partners to advance tobacco control efforts in the United States. We share and discuss emerging research findings, proposed policies, interpretations of events and news, and potential regulator implications of a wide variety of nicotine delivery products in the market."
The ACS Tobacco Control Research Team
These tobacco control researchers are part of the larger ACS Surveillance and Health Equity Science department:
Nigar Nargis, PhD, Senior Scientific Director
Minal Patel, PhD, MPH, Senior Principal Scientist
Tyler Nighbor, PhD, Principal Scientist
Samuel Asare, PhD, Principal Scientist
Zheng (Ashley) Xue, MSPH, Senior Associate Scientist
Shanshan Wang, MPH, Associate Scientist
The ACS CAN Tobacco Control Collaborators
ACS CAN has successfully advocated for billions of dollars in cancer research funding, expanded access to quality affordable healthcare, and advanced proven tobacco control measures. Here are some ACS CAN staff members who collaborate with the ACS on tobacco control.
Lisa LaCasse, MBA, President, ACS CAN
Cathy Callaway, Senior Director, State & Local Campaigns
Catherine McMahon, Principal, Policy Development