Melanoma Survivor Focuses on Fitness and Health
Published on:

September 27, 2019
Fitness has always been my route toward health and relieving anxiety. I like working out with other people and helping them with their health.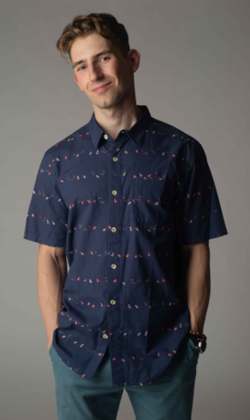 For Tarik Ceric, competing in a body building contest while in cancer treatment is one of the toughest things he's ever done – and also one of the most rewarding. "I live for times like this," said Ceric. "I feel tremendous and most alive when I'm pushing past my comfort zone." He finished in 4th place.
Ceric was diagnosed with melanoma skin cancer in March at age 24. It was a shock. When the doctor called with the biopsy results, Ceric says it felt like he had dropped a torpedo: "Your soul gets instantly sucked out of you. Your heart stops, and all the sights and sounds around you dull out, like you just put a blur filter on life. A million thoughts pummel your head: 'What do I do now? How much time do I have to live?'"
Ceric says he didn't want his parents to worry "any more than they already do," so he kept his diagnosis from his family for as long as possible. His parents came to the US as refugees in the 90s after fleeing the war in Bosnia and settled in a suburb of Chicago. Ceric was the first in his family to graduate from college and now works as a civil engineer.
About 9 months after graduation, Ceric noticed a bump under his chin. He hoped it would go away, but it grew bigger – eventually to the size of a ping pong ball. He saw a doctor and a biopsy showed the cause was melanoma skin cancer that had spread to a lymph node in Ceric's neck. He suspects the melanoma started on his nose. He'd had a mole removed a couple of years earlier, but it hadn't been tested for cancer.
Ceric had surgery to remove several lymph nodes in his neck, followed by chemotherapy and immunotherapy. He has about 8 more months of treatment left. Side effects have included fatigue, skin problems, and what he calls "mental fog" or trouble thinking sometimes. But he says the worst symptoms are the feelings of depression and loneliness. That's when he turns to physical exercise. "Fitness has always been my route toward health and relieving anxiety," said Ceric. "I like working out with other people and helping them with their health. Fitness and health have always been my therapy."
Appreciating family and friends
Ceric says having cancer made him realize the importance of his relationships. He now tries to take every opportunity to show his love and appreciation for family and friends by spending more time with them, trying to be "in the moment" as much as possible, and not letting his emotions take over.
"Being with people you love and who love you is one of the most powerful things you can do for mood, health, and life," said Ceric. "Going through cancer treatment makes you think about your own mortality. Tomorrow is never promised so you have to focus on today."
He says he wants to make his cancer experience a positive force, so he can be a role model for others and inspire and motivate them to live their best lives. "Cancer motivated me to craft the best version of myself so I can positively impact the lives of others," said Ceric. "I strive to influence the same type of growth in others that I experienced. This is the impact I want to leave on the world."
Reviewed by
Submit your story

Due to the impact of COVID-19 on American Cancer Society resources, we are no longer able to review new submissions for Stories of Hope.
American Cancer Society news stories are copyrighted material and are not intended to be used as press releases. For reprint requests, please see our Content Usage Policy.