Mesothelioma Survivor Lives Life Every Day
Published on:

November 25, 2019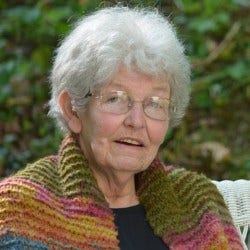 Emily Ward, 70, doesn't celebrate holidays anymore. "I'm not going to wait until Thanksgiving or Christmas to be with family," she says. "Instead, we have celebrations all the time." It's been more than 7 years since Ward was diagnosed with pleural mesothelioma, a type of cancer that starts in the lining of the chest. The main risk factor for getting mesothelioma is breathing in asbestos fibers, often in workplaces such as mines, factories, and certain manufacturing plants. But Ward spent her career as a nurse working in hospitals and doctors' offices.
"When I was first diagnosed – when they told me it was mesothelioma – I knew it was asbestos cancer. I asked myself, 'Where did I get this?'" said Ward.
A zillion tests
Symptoms of pleural mesothelioma, which include chest pain, shortness of breath, and coughing, are the same as those likely to be caused by other, more common problems. Ward's first symptom was coughing. She thought she had pneumonia, but it didn't get better so she went to the doctor. A chest x-ray and a CT scan found her lung had collapsed. But doctors still didn't know what was making her sick. They took a close look at her lungs in a procedure called a bronchoscopy and examined her cells under a microscope. Finally, a thoracic surgeon ordered a biopsy, and she was diagnosed with mesothelioma in August 2012.
She then underwent "a zillion tests" to find out if surgery was an option. On October 4, 2012, she had extensive surgery to remove the lining of her chest cavity on the left side and scrape the surface of her left lung. During surgery, chemotherapy drugs were delivered into the chest cavity. However, the surgery did not remove every cancer cell. In February, Ward began the first of 6 chemo infusions to kill off the remaining cancer, followed by regular visits to check whether it had returned.
The right support system
Ward lived in rural Maine with her 5 dogs – 4 long haired dachshunds and 1 mixed breed. Before her surgery, she drove to Florida to leave the dachshunds with 3 trusted friends – she says they don't adjust well to dog-sitters – and arranged for her nephew to take care of Puppy, the mixed breed. After the surgery, one friend drove back with Ward to retrieve the dogs.
They played an important role in her recovery. "There were days when I didn't want to move, but when you have somebody depending on you, you have to. I had to get up and feed them and let them out," said Ward. "They were a diversion. I could sit outside with them and watch them when I couldn't do much else. They were loyal. They would come sit in my lap and sleep on the bed. They were my companions; they were terrific."
Ward's husband had died years before, and they didn't have children. But she had the support of her 4 brothers and extended family who lived close by and knew what she needed, as well as what she didn't. "I'm a really private person and my brothers respected that. I don't like surprises. They'd call and say, 'Are you ok? What do you need? I'm coming by – is that OK?" said Ward. "They were there. I knew if I needed them, I could pick up the phone and talk. They were a quiet support system, not overbearing."
The American Cancer Society was another source of support. Ward drove about 100 miles to Boston for each treatment and the American Cancer Society helped out with transportation expenses. She was grateful to know lodging help was also available, if she became stuck because of snow for example, but she never needed it.
'Where did I get this?'
When Ward was first diagnosed, she tried to figure out how she got mesothelioma. She found The Mesothelioma Center online, spoke to a patient advocate, and eventually contacted a lawyer. She suspects she was exposed to asbestos 40 years ago while working in a hospital that was being renovated. Each day after she punched in for her nursing shift, she says she walked right through the construction area.
Ward could not remember any specific product or company names, so the lawyer said she didn't have a case. But she did receive about $15,000 from one fund set up for mesothelioma patients. She's since stopped trying to figure out where her disease came from or why she got it.
She stayed in touch with the patient advocate, and now works with the Mesothelioma Center herself, offering information and support to others newly diagnosed with the disease.
Not a cure
I don't make long-term plans. I make plans 3 months at a time. When the doctor asks, 'How are you?' I say, 'You tell me.' I can make the best of it and do what makes me happy and be glad I'm here. I'm not going to let it ruin my life.
In 2014, follow-up tests showed new cell growth and Ward had more chemotherapy, until side effects became too severe. Now she takes Keytruda, an immunotherapy drug, and pain medication.
She says she has some shortness of breath, but still lives an active life. She works part time at a local gym, opening the facility in the morning and setting up equipment, and she serves on the planning board for her town. She crochets and knits and spends time with family.
 "The attitude you have to take is – you can't look for it to be cured," said Ward. "It may not shrink but as long as it's not growing that's a positive thing. I don't make long-term plans. I make plans 3 months at a time. When the doctor asks, 'How are you?' I say, 'You tell me.' I can make the best of it and do what makes me happy and be glad I'm here. I'm not going to let it ruin my life."

American Cancer Society news stories are copyrighted material and are not intended to be used as press releases. For reprint requests, please see our Content Usage Policy.