Papaya and Almond Smoothie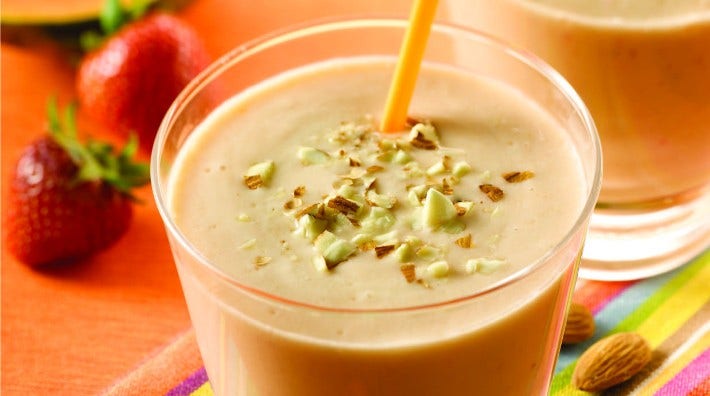 Serves 4 (about 1 cup each) | Prep Time: 5 minutes | Total Time: 5 minutes
Ingredients
1 cup nonfat plain or vanilla yogurt
1 cup chopped papaya
⅓ cup fresh or frozen chopped strawberries
1 cup skim or 1 percent milk
1 teaspoon vanilla
2 tablespoons honey or agave nectar (optional)
2 tablespoons slivered almonds
2 tablespoons chopped almonds (optional)
Directions
Combine the yogurt, papaya, strawberries, milk, vanilla, honey, and almonds in a blender and mix well. Sprinkle chopped almonds on each serving, if desired.
Per Serving
Calories 126
Total fat 2.2 g
Saturated fat 0.3 g
Trans fat 0.0 g
Polyunsaturated fat 0.5 g
Monounsaturated fat 1.3 g
Total carbohydrate 21 g
Dietary fiber 1 g
Sugars 19 g
Protein 6 g
Sodium 68 mg
You can use peaches or melon if you don't have papaya on hand for this smoothie. You can also use whole almonds instead of slivered almonds—just blend them a little longer. Almonds give smoothies a delicious taste and are very nutritious.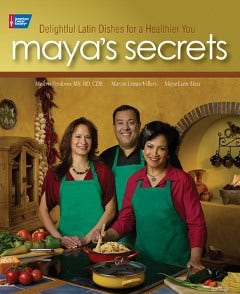 Maya's Secrets
Copyright ©2013 American Cancer Society.

Our lifesaving work is made possible thanks to generous supporters like you.
Donate now so we can continue to provide access to critical cancer information, resources, and support to improve lives of people with cancer and their families.