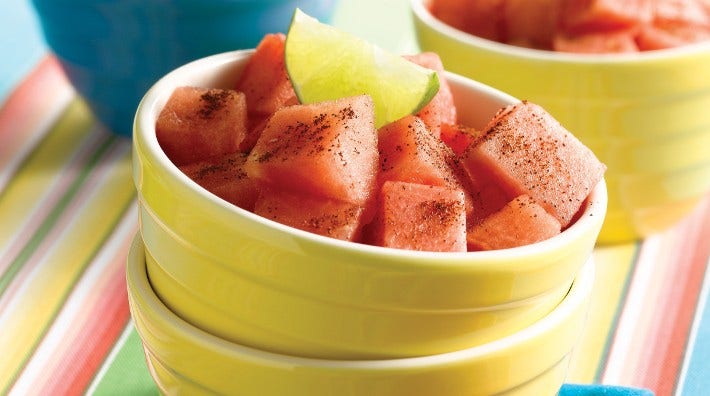 This is a great recipe for parties and family gatherings during the summer. Other seasonal fruits can be used in place of watermelon, such as peaches, other melons, papaya, or any combination of berries. For younger children, you can omit the chili powder or use less.
Prep Time: 5 minutes
Total Time: 5 minutes
4 Servings

Watermelon, cubed, 4 cups, chilled
Chili powder, 1 teaspoon
Salt, to taste
Limes, 3, divided
Place the chilled watermelon into individual glasses or glass bowls.
Mix the chili powder and a pinch of salt together. It is best to put the mixture in a salt shaker to better control the amount of spice being sprinkled onto the watermelon.
Juice two limes. Sprinkle the watermelon with lime juice and the chili powder mixture, according to the child's preference.
Cut the remaining lime into wedges and serve with the watermelon.
Per Serving
Calories, 49
Total fat, 0.4 g
Saturated fat, 0.0 g
Trans fat, 0.0 g
Polyunsaturated fat, 0.1 g
Monounsaturated fat, 0.1 g
Total carbohydrate, 12 g
Dietary fiber, 1 g
Sugars, 10 g
Protein, 1 g
Sodium, 9 mg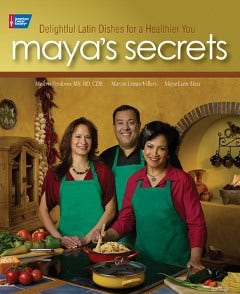 Maya's Secrets
Copyright ©2013 American Cancer Society.

Our lifesaving work is made possible thanks to generous supporters like you.
Donate now so we can continue to provide access to critical cancer information, resources, and support to improve lives of people with cancer and their families.