Global Capacity Development

As a leader in cancer control for more than 100 years, the American Cancer Society is committed to saving lives from cancer and leading the fight for a world without cancer. We believe that where you live should not determine if you live.
The ACS Global Capacity Development team works with cancer-focused civil society organizations and national cancer networks in low- and middle-income countries (LMIC). We help build vibrant and collaborative cancer movements made up of strong cancer-focused civil society organizations (CSOs). We believe that our comprehensive and coordinated approach is essential to successfully changing the face of cancer around the world.
The Vital Role of Civil Society Organizations in Addressing Cancer in LMIC
"All over the world, independent and civil society advocates help governments solve problems and better serve their people by shining a light on the issues like education standards, access to healthcare, the rule of law, and economic opportunity."

-Ben Rhodes (Co-Chair, National Security Action; Deputy National Security Advisor, 2009-2017)
Cancer-focused CSOs around the world play a critical role in preventing cancer and providing support to patients and their caregivers. They educate people on cancer risk factors, provide cancer screening, refer patients for treatment, and provide support services along the cancer journey. They advocate for better access to care in all countries, so that cancer can be prevented or treated effectively.
Despite their important role in cancer fight, strong and effective organizations are in short supply in many LMIC where cancer is a relatively new health threat compared to the traditional threat of infectious diseases. For existing organizations, they may not always coordinate their efforts with other organizations which could maximize their results and optimize the use of limited resources. As a result, cancer patients do not always receive the quality life-saving services they need and deserve.
To be effective, cancer-focused organizations must provide services that make a difference and are cost-effective. Organizations must also be trustworthy to attract supporters and investments. To achieve this, they need to set up strong organizational systems for managing funds, running their offices, supporting their staff and volunteers, and managing their program activities. For organizations that have been started by dedicated survivors and volunteers touched by cancer, setting up these systems and controls can be a difficult task. This is where we can help.
The American Cancer Society SOURCE Program
Harnessing Passion, Promoting Professionalism, Conquering Cancer Collaboratively
"We have come a very long way with the SOURCE Program: celebrating our diversity, leveraging on our strengths and energies, and being able to know that everyone is playing a little or big part in making the whole strong."

-David Makumi, KENCO Chair
ACS Global Cancer Control department launched a pilot of Pillar One of the American Cancer Society SOURCE (Strengthening Organizations for a United Response to the Cancer Epidemic) Program in 2016 in Kenya and Uganda. This program is a competency-based training and technical assistance program for cancer-focused organizations. The pilot will finish in 2020. ACS plans to revise the program as necessary and introduce it into other LMIC starting in 2021.
Pillar One: Organizational Foundations
"We have been able to put together most of the structures needed for us to successfully say that we are running BCK in the right direction.  It has really empowered us. We are thinking in a better capacity as individuals and as an organization. With the collaboration we've had with fellow cancer organizations, the ACS program has brought about the need for teamwork. And it has really made us grow tremendously. Right now as organizations we've been able to achieve so much."

-Josephine Sitawa, Breast Cancer Kenya
The first pillar of the program, Organizational Foundations, helps organizations to develop systems and practices that are necessary to become stronger, more sustainable, and trustworthy.
We work with local development firms in delivering training content that has been adapted to local legislation and culture.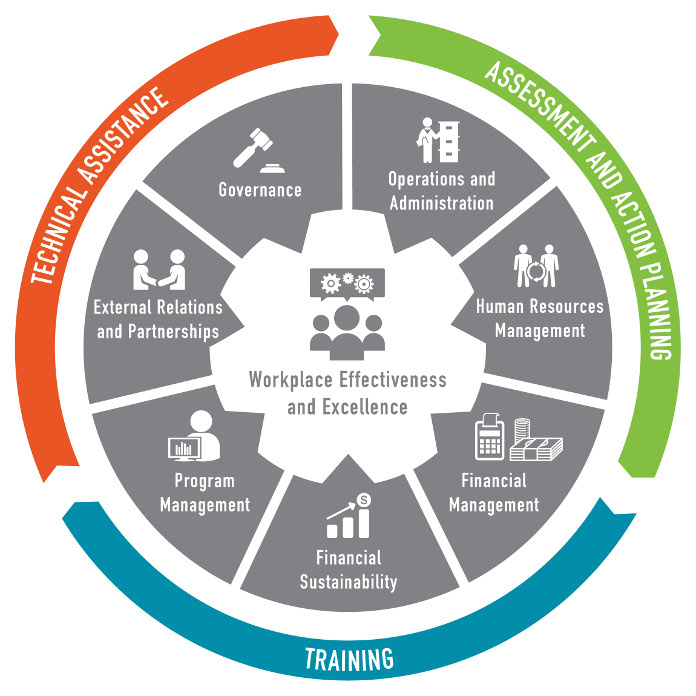 This program pillar has four parts: 1) assessment, 2) in-person training, 3) tailored technical assistance, and 4) a practicum experience focused on eight areas of organizational strengthening:
1. Governance
2. Operations and Administration
3. Human Resources Management
4. Financial Management
5. Financial Sustainability
6. Program Management, and
7. External Relations and Partnerships
8. Workplace Effectiveness and Excellence
Organizations participate as part of a cohort over three years. Each organization's journey through the program is based on their individual assessment results and the progress they make over time. Board, staff, and volunteers of participating organizations learn practical skills and best practices in organizational development and they are supported and mentored throughout the process.
In addition to individualized support, they receive peer-to-peer learning opportunities and networking experiences. Participants have noted this builds a spirit of openness, collaboration, and problem-solving. They have also noted that they expect the collaboration to last beyond the end of the program.
Pillar Two: Mission Delivery
The second pillar of the program, Mission Delivery, offers training and technical assistance in specific areas of the cancer care continuum from prevention through patient support to survivorship and end-of-life care. Other important topics covered are advocacy, the use of data to improve programs, and effective health provider communication with patients and caregivers.
This pillar is still in development.
Investing in National Cancer Network Organizations in LMIC
In addition to individual organizations, we also support national cancer networks. They help coordinate work between civil society, private sector and government.
We want to support the development of strong cancer movements in our partner countries, for the lasting benefit to patients and their caregivers.
Learning from Data

As we implement our programs, we learn from our data. With new resources invested in late 2018 by EMD Serono, we are actively evaluating all aspects of the ACS SOURCE Program. This is helping us to be able to share what we learn for the benefit of anyone working in global cancer control, non-communicable diseases (NCDs), and civil society building to improve health, particularly in LMIC.
For more information, please contact: ACS.Source@cancer.org