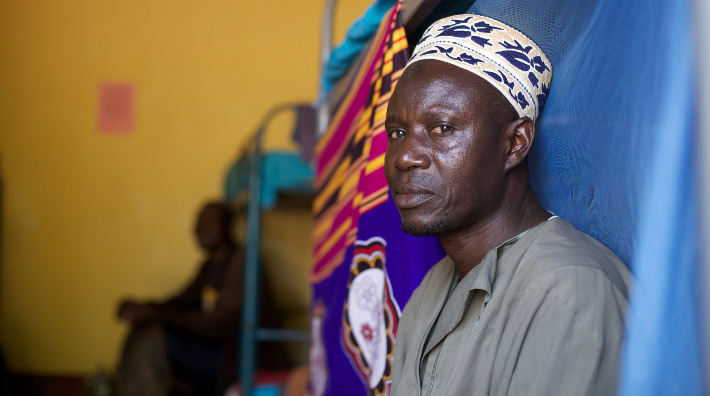 The American Cancer Society Global Patient Support team works with health care facilities and organizations in LMICs to help cancer patients and their caregivers on their cancer journey by promoting patient-centered care through the implementation of patient navigation and cancer education for patients and caregivers. The goal is to remove barriers to care, reduce patient suffering, increase treatment adherence, and improve health outcomes. The team provides training, guidance, and mentorship to health care facilities and cancer-focused organizations to ensure that cancer patient care and support services are coordinated, comprehensive, and effective. 

"When I learned that I had cancer, I was very scared. However, after meeting with Helen, one of the navigators, I learned a lot more about cancer and felt encouraged to seek treatment. Helen served as an advisor throughout my difficult journey through chemotherapy, as she helped me learn about the side effects of treatment and how I could manage them. Now, I'm almost finished with treatment and am deeply grateful for all that the navigation team has done to help me through this time."

–39-year-old patient with breast cancer at Kenyatta National Hospital
Patient navigation is a process that offers personal guidance for patients, their families, and caregivers as they move through complex care systems. In cancer care, patient navigation can help ensure timely diagnosis and treatment, and provide support when patients run into challenges along the way. Patient navigators can be nurses or laypeople who are trained for their unique roles.
The American Cancer Society has a long history of working to reduce barriers for cancer patients in the United States (US). However, the needs of cancer patients and their families in LMICs can be even greater than for patients in the US. These patients are often more vulnerable due to higher rates of poverty, health facilities and systems that are severely under-resourced (e.g., specialized staff, equipment, medicines, etc.), low levels of understanding cancer, and limited patient support services. All of these factors contribute to poor health outcomes.
Starting in 2016, ACS began collaborating and supporting partners in Kenya and Uganda to build comprehensive patient navigation programs to demonstrate that patient navigation can be an effective and viable patient-centered care delivery model for health institutions in LMIC. The successes to date at Kenyatta National Hospital (KNH) and the Uganda Cancer Institute (UCI) have inspired an expansion of this work to other parts of the world.

With a generous grant from the MSD Foundation, ACS has launched a new global patient navigation initiative: Building Expertise, Advocacy, and Capacity for Oncology Navigation (BEACON) Initiative to strengthen health care facilities, health care systems, and cancer organizations in LMICs to improve health outcomes and the patient experience during the cancer journey. The BEACON Initiative is made up of two key components:
The global patient navigation toolkit is filled with practical resources to help users lead key processes and complete specific activities to design, launch, implement, sustain and grow patient navigation programs uniquely suited to their local context, the needs of their patients, and their resource base. 
Through the peer learning collaborative, users are invited to join an online platform for sharing experiences and to take part in virtual events that will introduce them to others working in patient navigation who are facing and addressing similar challenges.
The BEACON Initiative is being piloted from February 2022 through April 2023 with 10 pilot organizations in Armenia, Brazil, Guatemala, Egypt, Indonesia, Malaysia, Nigeria, and South Africa.  If you would like to learn how to get involved, please reach out to us at: acs.beacon@cancer.org.
Patient and Caregiver Education
"When people come and ask me what made me sick, I do not tell them it is cancer. I do not tell them because people will abandon me-they think it will 'stick' to them."

-A patient in Ethiopia on why she didn't tell people about her diagnosis
The American Cancer Society has been helping to raise public awareness about cancer in the US for more than 100 years. In the past, cancer was a disease regarded with such fear and denial that it was rarely mentioned in public. People in LMIC face those same challenges today. They often do not know much about cancer and its causes. Some have misperceptions about the disease, partly due to common myths and stigma. This is also because there are very few culturally-relevant resources available to educate doctors, patients, and caregivers better.
In 2015-2017, working with local governments, national hospitals, and cancer organizations, ACS developed a set of cancer education materials for East African audiences based on some of our most helpful educational materials for patients and caregivers used in the US. Created using research, these materials explain:
what is cancer, including possible signs and symptoms;
identify risk factors for cancer;
describe the different types of treatment and related side effects;
promote pain control and timely treatment,
explain how to take care of oneself on the treatment journey.
These resources, used in Ethiopia, Kenya, and Uganda, are culturally-appropriate and easy to understand. The materials help open new channels for communication, reduce stigma, and offer hope to families affected by cancer. They help healthcare providers and health workers explain a cancer diagnosis and treatment, help patients navigate complex decisions and emotions, and provide tips for caregivers who are caring for a loved one with cancer.
To ensure effective use of the materials, ACS is supporting national cancer network organizations in these countries by training healthcare providers and health workers to use and distribute the materials in the best ways possible.
In 2021-2022, as part of the rollout of the American Cancer Society BEACON Initiative, we collaborated with Hesperian Health Guides to create two new ready-to-use cancer education materials in English for use by cancer patients and health workers in health facilities and cancer organizations in a variety of LMIC settings around the world. The two resources are:
Staff and volunteers of health care facilities and cancer organizations in LMICs everywhere are now able to educate patients and caregivers by using and sharing these materials in digital and print format. Our hope is that these materials will help patients and caregivers everywhere understand the disease of cancer, make better decisions about their treatment, and get the help they need. We also hope they help break down the stigma and myths associated with cancer to promote meaningful conversations.
If you would like to use these cancer education materials with your patients at your health institution or organization, please download one or both of the ZIP files below. The materials in each file are described below. Please read the introduction materials before disseminating any of the cancer education materials. They explain the permissions granted to all users, including branding, printing, and distribution.
PRINT USE - ACS Global Cancer Education Materials (ZIP File)
Introduction to ACS Global Cancer Education Materials
ACS Global Patient and Caregiver Booklet Cover_print use
ACS Global Patient and Caregiver Booklet_print use
ACS Global Health Worker Flipchart_print use
NOTE: The ZIP file is a large file size because of the high-resolution images in the "print use" versions of the materials and will take time to download. If you experience any issues, please reach out to globalpatientsupport@cancer.org.

Additionally, we seek your feedback on the utility of these materials in your setting. Please complete a survey at any stage of your interaction with the materials, from downloading and reviewing them, to using them for patient education in your organization or institution. The survey will take around 10-15 minutes to complete. Thank you in advance for your participation!