Chocolate Chip-Sour Cream Coffee Babycakes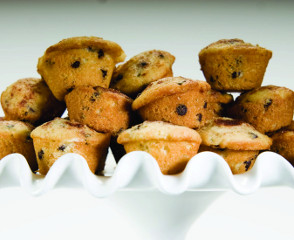 These mini cakes, sized for portion control, are great for dessert or served as part of a brunch. Not too sweet, but very satisfying, they are a welcome addition when you need a little treat. Not a chocolate fan? Leave out the chips.
Serves: 4
Prep time: 15 minutes or less
Total time: 30 minutes or less
Ingredients
⅓ cup butter, room temperature
½ cup granulated sugar
1 egg
½ cup regular sour cream
1 teaspoon vanilla
1 cup all-purpose flour
¾ teaspoon baking soda
¼ cup mini chocolate chips
2 teaspoons cinnamon-sugar
Directions
Preheat the oven to 350 degrees. Lightly coat two mini-muffin tins with nonstick cooking spray.
With an electric mixer, beat butter and sugar. Add egg, sour cream, and vanilla and beat until well blended. Add flour and baking soda and beat until just combined. Scrape down sides and stir in chocolate chips. Spoon heaping teaspoons into muffin cups. Sprinkle with cinnamon-sugar.
Bake for 8 to 12 minutes, or until tops just bounce back when touched. Leave in tins for 5 minutes before removing to a cooling rack.
Make your own cinnamon-sugar by combining ¼ cup granulated sugar with 1 tablespoon cinnamon. Store in an airtight container.
Per Serving
| | |
| --- | --- |
| Calories | 80 |
| Calories from Fat | 35 |
| Total Fat | 4 g |
| Saturated Fat | 2.6 g |
| Trans Fat | 0.0 g |
| Polyunsaturated Fat | 0.2 g |
| Monounsaturated Fat | 1.1 g |
| Cholesterol | 20 mg |
| Sodium | 65 mg |
| Total Carbohydrate | 10 g |
| Dietary Fiber | 0 g |
| Sugars | 6 g |
| Protein | 1 g |