Mint-Chocolate Meringue Cookies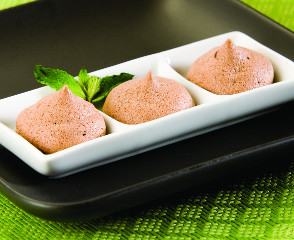 These bite-sized cookies burst with flavor that belies their low calorie and fat count. These cookies will satisfy even the most sophisticated taste buds.

Lining trays with parchment paper prevents food from sticking. Parchment is available in most supermarkets or cooking stores and is a baker's best friend.
Makes about 60 cookies
Prep time: 15 minutes or less
Total time: 45 minutes or less
 Ingredients
3 egg whites
⅛ teaspoon cream of tartar
⅔ cup granulated sugar
¼ cup unsweetened cocoa powder, sifted
¼ teaspoon mint extract
⅓ cup mini chocolate chips or finely chopped bittersweet chocolate
Directions
Preheat the oven to 300 degrees. Line two baking sheets with parchment paper, securing the edges with tape.
With an electric mixer, beat the egg whites and cream of tartar until soft peaks form. Gradually add sugar, 1 tablespoon at a time. Add cocoa powder and beat until the mixture becomes glossy. Add mint extract. Gently fold in chips.
Place mixture in a pastry bag fitted with a ½- or ¾-inch tip. Pipe 1-inch rounds onto the parchment, leaving 1   to 2 inches between cookies. With damp fingertips, press down any peaks.
Bake for 25 to 30 minutes, rotating pans halfway through baking. Place baking sheets on a cooling rack for 10 minutes before peeling cookies off the parchment. 
If a pastry bag isn't available, spoon mixture into a zip-top bag and snip a ½-inch hole in the bottom corner of the bag. Batter can also be dropped with a tablespoon onto the parchment.
Per Serving
| | |
| --- | --- |
| Calories | 15 |
| Calories from Fat | 0 |
| Total Fat | 0.0 g |
| Saturated Fat | 0.2 g |
| Trans Fat | 0.0 g |
| Polyunsaturated Fat | 0.0 g |
| Monounsaturated Fat | 0.1 g |
| Cholesterol | 0 mg |
| Sodium | 0 mg |
| Total Carbohydrate | 3 g |
| Dietary Fiber | 0 g |
| Sugars | 3 g |
| Protein | 0 g |