Desktop Helpers

Smokeout Countdown Clock 
Have you picked a day to quit smoking and want some extra support for the American Cancer Society? Download our Countdown Clock and receive daily tips right on your desktop that will help you prepare to quit. When your quit day arrives the Countdown Clock will continue to provide practical support tips for your first month as a nonsmoker.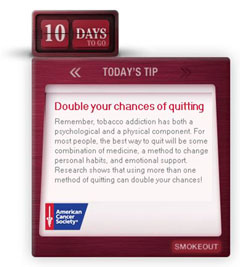 Download the file to your desktop [for Windows only]
Pick your quit day (give yourself up to 30 days)
Click on the clock daily for tips and resources
Craving Stopper
When a craving hits—it may seem intense. But evidence shows, it will subside in about two minutes. So, it's a good idea to find something else to do during your cravings. Take a walk, go get a drink of water, or you could download this nifty Craving Stopper. A memory match game that can distract you and entertain you to help ease you past your craving.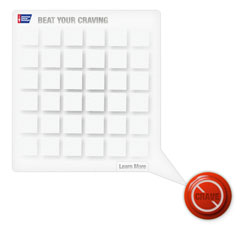 Download the file to your desktop [for Windows only]
Click the Craving Stopper anytime you have a craving
Distract yourself with the memory match game