Senior Principal Scientist
Epidemiology and Behavioral Research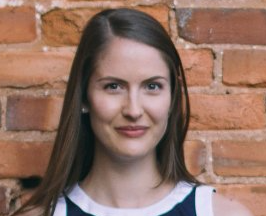 How I Became a Cancer Researcher...
In High School, my genuine love of exercising led me to my first job, as a group fitness instructor at a local gym. As an undergraduate, my exercise science courses showed me how exercise is truly medicine for both mind and body. That was the spark that led me to become an exercise and health researcher. Now, at the ACS, my goal is to better understand how exercise helps cancer survivors and how to promote it, so that more people can appreciate its benefits."
At ACS since 2017
As a principal scientist, Erika Rees-Punia, PhD, MPH, leads research projects on the promotion and benefits of physical activity. She is an exercise physiologist by training, with research interests more broadly in the behavioral sciences. Rees-Punia co-manages the Accelerometry Sub-Study, an ongoing project that's collecting objectively measured physical activity on 20,000 participants via activity monitors. She also co-leads the American Cancer Society (ACS) Health Equity workgroup whose goal is to identify and improve cancer health disparities.
Research focus and accomplishments
My expertise is in the fields of exercise science and behavioral science. My work specifically focuses on how physical activity and sedentary time affect cancer incidence, survival, and physical and mental health after a cancer diagnosis.
My work, and the work of many others, has shown that increasing physical activity and decreasing sedentary time helps decrease the risk of developing cancer. If cancer does develop, these actions lengthen survival and help people cope mentally and physically with the diagnosis. I also study how to use behavioral interventions, including combinations of self-monitoring, setting goals, and connecting with peers for social support, to promote active living. 
I'm particularly interested in identifying populations that may have less access to safe opportunities for physical activity, who would therefore benefit the most from a physical activity intervention, such as cancer survivors and disparate groups (e.g., residents of rural areas and racial/ethnic minorities).
Given my expertise on the benefits of exercise across the cancer care continuum, I authored a chapter in Exercise Oncology: Prescribing Physical Activity Before and After a Cancer Diagnosis. This new textbook presents a practical approach to exercise oncology for cancer prevention, survival, and survivorship.

Publications
For a full list of Rees-Punia's publications, visit her Google Scholar page.  
Contact 
Erika.Rees-Punia@cancer.org
404-982-3684
Work before ACS

American Cancer Society,
Post-doctoral fellow, 2018-2020
American Cancer Society,
Pre-doctoral fellow, 2017-2018
National Cancer Institute, Intern, 2016
University of Georgia, Graduate Research Assistant, 2014-2017
Centers for Disease Control and Prevention, Fellow, 2012-2014
Professional organizations
American College of Sports Medicine (ACSM)
American Society of Preventative Oncology (ASPO)
National Cancer Institute Cohort Consortium, Physical Activity Pooling Project Co-lead and Associate Member Council Representative
Prospective Physical Activity, Sleep, and Sedentary Time Consortium (ProPASS) Early Career Research Group
Education
PhD: Exercise Physiology, University of Georgia, 2014-2018
MPH: Environmental Health, Emory University, 2010-2012
BS: Exercise Science, North Park University Chicago, 2006-2010
Personal life 
My hobbies include boxing, weightlifting, cooking, and learning languages.