Evidence Synthesis Manager
Early Cancer Detection Science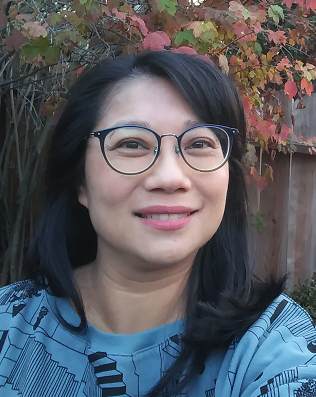 All of us are touched by cancer, whether in our own lives or those we love. I am honored to contribute to the fight against cancer by summarizing scientific evidence to further ACS's holistic mission to prevent cancer and support patients and families going through this difficult journey."
At ACS since 2023
Rita Shiau, MPH, is an epidemiologist and evidence synthesis manager in the American Cancer Society's (ACS) Early Cancer Detection Science group. She works with her team to systematically review, evaluate, and summarize scientific evidence to help ACS develop its cancer screening guidelines.
Research focus and accomplishments
Shiau spent two decades as an epidemiologist at county health departments in California. To support the county's infectious disease and tuberculosis control programs, she collected, maintained, analyzed, and summarized surveillance data. She also responded to outbreaks, evaluated interventions with community partners, and reported data in an understandable and actionable way to help clinicians and policymakers make decisions that improve the health and lives of everyone in the community.
Through that work, Shiau saw first-hand the inequities that contributed to worse health outcomes for certain populations and had the privilege of working on outreach campaigns to decrease these disparities.
She got her first taste of how impactful early detection can be from her work on a campaign to increase screening for hepatitis B, which causes liver cancer and is highly prevalent in the Asian community. She believes that it truly takes a multiplicity of voices to identify the knowledge gaps, structural and cultural factors that affect whether every population group within a community receives screening, and to empower people to seek that screening.
Shiau hopes to build on this life-changing work by bringing her public health experience to the ACS screening guidelines team so that we can reduce disparities in many types of cancers.
For a full list of Rita Shiau's publications, visit her Google Scholar page. 
Contact 
Work before ACS
Center for Evidence-based Policy, Oregon Health & Science University, Research Associate
Family Health Outcomes Project, University of California, San Francisco, Research Associate
Alameda County Public Health Department, Epidemiologist for the Acute Communicable Disease and Tuberculosis Control Sections
San Francisco Department of Public Health, Surveillance, Communicable Disease Epidemiologist
Professional Organizations
Guidelines International Network, Member
MPH: Epidemiology and Biostatistics, School of Public Health, University of California, Berkeley, 2001
SB: Biology, Massachusetts Institute of Technology, 1999
Personal life
I grew up and still live in the beautiful and wonderfully diverse San Francisco Bay Area. In my spare time, I like to explore new places near and far with my husband and children, try out new recipes, and get crafty at my sewing machine. I also spend time supporting children with special healthcare needs and their caregivers.