Associate Scientist I
Biospecimen Management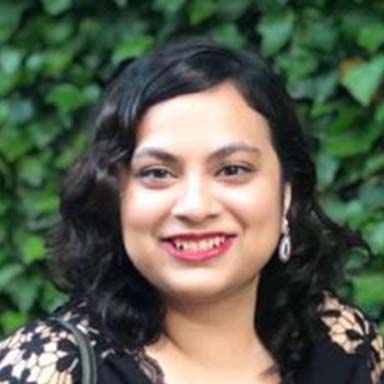 Cancer research has always been an interest of mine, but I didn't fully understand how a cancer diagnosis affected people and their families until I joined the Rollins School of Public Health's professional graduate organization, the Rollins Association for Cancer Prevention and Control (RACPAC). Through that program, I was able to volunteer at Emory's Relay for Life and at the Atlanta Hope Lodge, which allowed me to meet people experiencing life with cancer. After those experiences, I knew I wanted to be a part of an organization that is both at the forefront of cancer research and continually helping to meet the needs of cancer patients and their families."
At ACS since 2023
As an Associate Scientist I for the Biospecimen Management team, Sadaf A. Bhai, MPH, works with members of the Population Science team to collect, manage, and maintain the inventory of biospecimen samples collected from participants of the Cancer Prevention Study-II (CPS-II) and CPS-3 cohorts.
She also collaborates with external ACS partners and vendors on research that uses these biospecimen samples. 
Research focus and accomplishments
In the past, Bhai's research focused on determining how genetic polymorphisms affect the recurrence of breast cancer after treatment.  
She also helped manage a prostate cancer study that explored the effectiveness of several treatment options.
During the COVID-19 pandemic, Bhai worked as an epidemiologist at the Dekalb County Board of Health providing disease and outbreak-related guidance to county residents, schools, and long-term care facilities. Her current interests include determining how a person's gut microbiome protects them from cancer or increases their risk of developing it. I'm also intrigued by the effect that race and the social determinants of health have on a person's experience with prevention and screening services, diagnosis, treatment, follow-up, and quality of life as a cancer survivor. 
Contact 
Work before ACS
Emory University, Emory COVID-19 Response Collaborative (ECRC), Epidemiology Fellow assigned to the DeKalb County Board of Health
Emory University, Rollins School of Public Health, Graduate Research Assistant 
Education

MPH: Epidemiology, Emory University Rollins School of Public Health, 2020
BS: Molecular and Cellular Biology, Minors: Anthropology and Chemistry, University of Illinois at Urbana- Champaign, 2015
Personal life 
I was born and raised in Chicago but moved to Atlanta in 2018. I love exploring coffee shops and bookstores and am currently learning how to ice skate.