Ovarian Cancer Survivor Views Each Day as a Gift
Published on:

August 17, 2018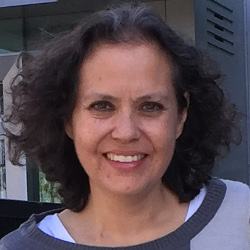 When Mercedes Mundaca was diagnosed with stage 4 ovarian cancer at age 43, her doctor told her she had 4 months to live. That was 6 years ago. "I want to tell everyone going through cancer that there is hope," says Mundaca. "No matter how bad things may seem, stay strong in faith and press forward. Miracles do exist."
In June 2012, Mundaca went to the emergency room with severe pain and bloating in her abdomen. Scans discovered 2 tumors on her ovaries, which had caused fluid to build up in her abdomen and around her lungs. When the doctor told Mundaca she had cancer and would likely not survive long, Mundaca said she cried like a baby, but she also was intent on beating the odds.
"A lot of it had to do with faith and positive thinking and just determination. I wanted to be cancer-free and beat it because my mom had died when I was very little – just 8 ½," said Mundaca. "During my treatment, I had a lot of support from friends and family. It's all been a miracle. 4 months is a very short time and I'm still here."
A rough road to health
Mundaca was treated with chemotherapy but had to postpone surgery until doctors could drain the fluid from her abdomen and around her lungs. This took several procedures because the fluid kept coming back. Finally, in October 2012 she was able to have a hysterectomy, followed by more chemotherapy. In 2013, follow-up tests showed Mundaca was cancer-free. But 3 months later, the cancer came back near her liver.
Although Mundaca continued to receive chemotherapy, the next year the cancer spread to her stomach, and the year after that, to her left lung. She sought counseling from clergy at several local churches and began sharing her story with other people she met. She says the experience helped her cope, brought her closer to God, and gave her more compassion and a better understanding toward others diagnosed with cancer.
At a low point during her ordeal, Mundaca called the American Cancer Society at 1-800-227-2345. She spoke to a cancer information specialist who offered to help her get a wig, get a ride to treatment, and other needs. Although she didn't end up using any of the services, Mundaca says, "The thought of them trying to help me made me feel like I wasn't alone."
In June 2016, Mundaca was once again declared "cancer-free."
Telling her story
We can't take anything for granted because each day is a gift. You learn to appreciate things that you never noticed before.
Living through what she had thought was terminal cancer inspired Mundaca to share her story. She says, "I think it would help other people who might be afraid and might think there's no hope. I went through stage 4 cancer and I'm still alive. I believe that if God kept me alive, it's my duty to share my story with other people."
Last year, Mundaca found a new way to share her story when she began participating in the American Cancer Society Relay For Life event in Burbank, California. She enjoyed talking with the other cancer survivors she met, especially those newly diagnosed. "I love giving people support and hope," she says.
Today, Mundaca says she loves taking walks, enjoying nature, going to church, meeting new people, and just valuing life. "We can't take anything for granted because each day is a gift," she says. "You learn to appreciate things that you never noticed before – just the little things, like breathing – because at one time, I couldn't breathe on my own. I feel like I've been born again."

American Cancer Society news stories are copyrighted material and are not intended to be used as press releases. For reprint requests, please see our Content Usage Policy.