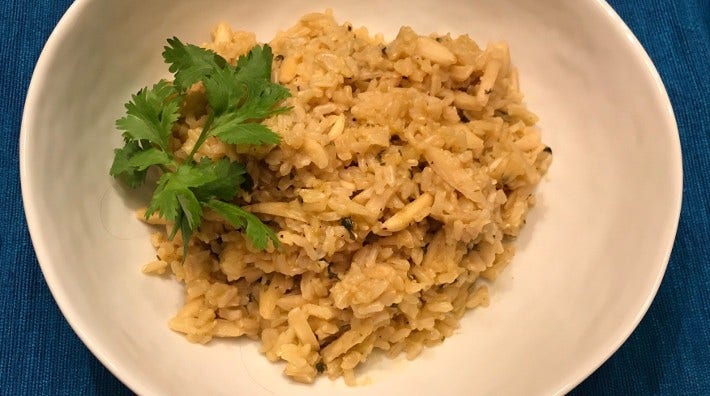 Almonds are a rich source of protein and fiber and add taste and texture to dishes. You can also add raisins, sliced red onion, chopped basil, or dried cranberries to this recipe. Try this dish cold as a salad, mixed with baby spinach or arugula and tossed with olive oil and freshly squeezed lemon juice.
Prep Time: 10 minutes | Total Time: 1 hour | 4 Servings
Ingredients
Long grain brown rice, uncooked, 1 cup
Canola oil, 1 tablespoon
Onion, chopped, ¼ cup
Garlic, 1 clove, finely chopped
Fat-free low-sodium vegetable broth, 2 cups
Cilantro leaves, chopped, 2 tablespoons (optional)
Ground cumin, ¼ teaspoon
Salt, ½ teaspoon, or to taste
Ground black pepper, ¼ teaspoon
Slivered almonds, ½ cup
Per Serving
Calories, 273
Total fat, 9.8 g
Saturated fat, 0.9 g
Trans fat, 0.0 g
Polyunsaturated fat, 2.7 g
Monounsaturated fat, 5.8 g
Total carbohydrate, 40 g
Dietary fiber, 4 g
Sugars, 2 g
Protein, 6 g
Sodium, 369 mg
Instructions
Rinse the brown rice and set aside.
Heat the canola oil in a 2-quart pot over high heat. Sauté the onion until translucent. Add the garlic. Continue cooking until the onion and garlic start to brown.
Add the rice and mix well. Add broth, cilantro, cumin, salt, and pepper and bring to a boil. Cook for 5 minutes, then reduce heat to low, cover, and cook for 40 minutes, or until the liquid is fully absorbed.
Add the almonds and stir lightly with a fork. Cover and continue to cook on low heat for an additional 10 minutes before serving.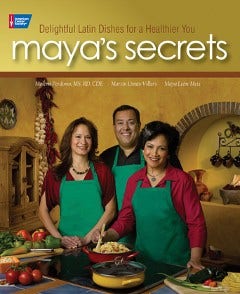 Maya's Secrets
Copyright ©2013 American Cancer Society.

Our lifesaving work is made possible thanks to generous supporters like you.
Donate now so we can continue to provide access to critical cancer information, resources, and support to improve lives of people with cancer and their families.