A Spiritual Approach to Weight Loss for African American Men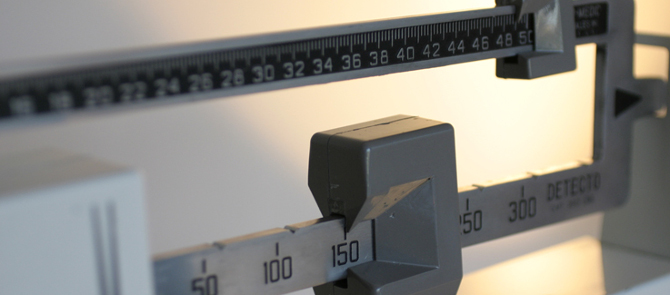 Research shows that when church leaders talk about ways to improve health, congregants tend to listen. That's why American Cancer Society grantee Derek M. Griffith, PhD, is testing a church-based weight loss program for African American men.
"One of the challenges with men is that social norms and expectations encourage them to prioritize their jobs and families over their own health. Putting weight loss in a cultural context of the church, with the social support that men get from their family and church, may help to get men to focus on their health," says Griffith, director of the Institute for Research on Men's Health at Vanderbilt University in Nashville, Tenn.
Griffith's weight-loss program, called Mighty Men, isn't just about improving overall health. It's also about reducing cancer disparities among black men. Death rates from colorectal cancer, one of several cancers associated with obesity, have remained about 50% higher in black men than in white men since 2005, according to Cancer Facts & Figures for African Americans, 2016-2018. And black men have the highest cancer death rate of any racial/ethnic group of men or women in the US.
More About Mighty Men
The 6-month intervention will involve weekly 45-minute sessions of weight-loss education and social support, and weekly 45-minute sessions of physical activity led by a trainer. In addition, participants will get a Fitbit activity tracker and access to a tailored website that helps them set and achieve weight-loss and lifestyle goals. (A simple eating goal might be including a fruit or vegetable with every meal.)
Participants will also get text messages three times per week: a reminder to come to the sessions, an informational message that ties to the content in the session, and a message that appeals to what Griffith calls "gender motivation."
"Building on work from a previous ACS grant, a lot of that formative work has led us down a path to understand different aspects of masculinity and different ways that men try to be men," says Griffith. He hopes that having insight into "how black men understand the social, cultural, and environmental factors that promote or hinder their healthy eating or physical activity" will help participants and the program succeed.
Gendered Messaging
"What's unique about African American men, and particularly middle-age and older African American men is that regardless of how religious they are, they tend to be very spiritual. African American men tend to see life through the lens of spirituality in addition to masculinity," Griffith explains. For example, they might feel they need to put family or work stressors in a spiritual context or they may look to God for help.
But that sentiment doesn't necessarily translate to taking care of their health. While women tend to be more proactive about it, men may not take action until they see a practical reason, according to Griffith. He says gendered messaging includes providing those practical reasons: "Be healthy because it's going to help you be more effective at work. Be healthy because it'll help you in bed with your partner."
Griffith's four-year American Cancer Society grant to support Mighty Men takes effect this summer. He expects to be testing the intervention in 4 churches in Nashville and 4 in Flint, Mich.
American Cancer Society news stories are copyrighted material and are not intended to be used as press releases. For reprint requests, please see our Content Usage Policy.