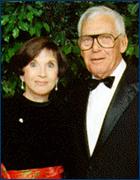 Leo Rosen, 80, a resident of Rancho Mirage, California and longtime friend and benefactor of the American Cancer Society, died March 26, 1996 at Eisenhower Medical Center in Rancho Mirage after a courageous battle with lung cancer.
In August 1995, prior to the discovery of his illness, Leo Rosen and wife Gloria endowed the American Cancer Society Library with a gift through the American Cancer Society Foundation. Through the Leo and Gloria Rosen-American Cancer Society Library, the Rosen's gift provided the first funding for the ACS Home Page on the World Wide Web.
Following is an excerpt from Gloria Rosen's comments during the announcement of their gift: "The American Cancer Society is the leader in the fight against a terrible disease that has affected both of our families. There is a great deal of knowledge gleaned from the research of the past that could save lives if the information could only be made available to people.
"Through the American Cancer Society Foundation, we have made a commitment to secure ongoing, state-of-the-art technology to get vital cancer information where it is needed if it is to saves lives. We realize that by doing this, the end product of research will be more widely available.
"We made this contribution as a challenge to others. Please join us in getting the needed money for the fight against cancer."
In 1998, Gloria Rosen and her children, David and Louise, renewed their commitment by providing additional funds for the Rosen Library. The American Cancer Society and its Foundation is grateful to the Rosen family for its generosity and trust in our mission.