Handling a Serious Illness Through the Holidays During the COVID-19 Pandemic
Published on:

November 20, 2020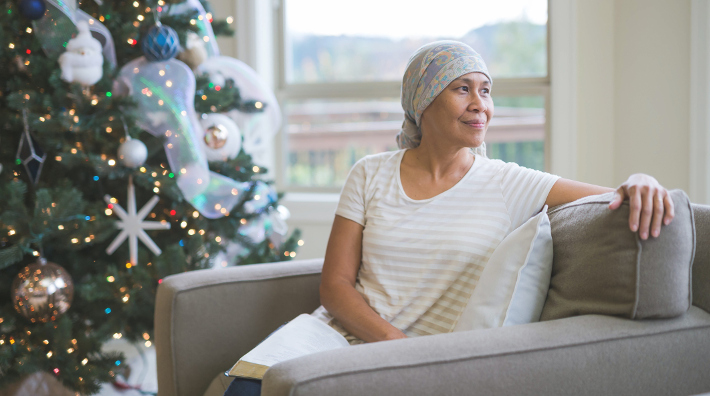 Holiday time may seem like the worst time to be sick or have an illness in the family. Even the warmest of traditions lose their luster when you're worried about your health care needs or those of someone you love.
This year, the stress of the COVID-19 pandemic adds even more concern for people already facing another serious illness. Holiday gatherings are likely to be quite limited for many people, leading to feeling stuck at home, isolated, and sad. But you can still plan for and have meaningful celebrations.
If you or someone close to you has cancer or another serious illness this year, use these tips and resources to help lift your holiday spirits. Coping with stress in a healthy way will help make you, the people you care about, and your community stronger.
Do
Feel your feelings: Give yourself permission to feel and express your feelings, whether of joy, fear, sadness, or pain. Let yourself laugh or cry.
Take care of yourself: Eat balanced meals and make time for some exercise. Physical activity, whether done indoors or outdoors, is a healthy way to release tension.
Allow yourself simple pleasures: Take a warm bath, a nap, or eat your favorite foods to help lift your mood.
Find distractions: Think about and plan time for bingeing on a TV show, fixing a fancy dinner, watching a live or recorded sports event, playing cards or other virtual games with friends, or taking a walk or drive around your block or in a local park to see the holiday lights.
Prepare for the holidays: Decide if you need to adjust certain traditions or create new ones, such as a having a virtual gathering and shopping online. Plan in advance how you want to spend your time, who you'd like to connect with, and what technology or devices might help make those connections easier.
Enlist support: Rely on those around you to safely help with shopping, decorating, gift wrapping and delivery, and meal preparation.
Learn to say no: You don't have to do everything. People will understand if you can't attend or do certain activities.
Don't
Don't pressure yourself: Try not to set unrealistic expectations or try to do everything yourself.
Don't overindulge in alcohol. It's best not to drink alcohol. And, alcohol is a depressant, so it can "bring out" or heighten bad feelings.
Don't try to change your feelings: It's OK to feel sad. Don't try to force yourself to be happy just because it's the holiday season.
Don't spend more than you can afford: Buying things will not make up for any negative feelings you are having. Shopping online can be fun, but can also become a habit. Decide how much money you can afford to spend on gifts and other items. Then stick to your budget, and look for the many good deals that are available, too.
Don't try to do too much in one day: Plan ahead, setting aside specific days for specific tasks.
Don't abandon healthy habits: Eat and drink in moderation. Get plenty of sleep!
If you're grieving over the holidays
For people who have lost a loved one, the holidays can be even more difficult. Allow yourself to feel pain and whatever other emotions come along, too. Try following some of the tips above, and remember that although working through grief is important, it's OK to give yourself a break from grieving by distracting yourself with activities you enjoy. Try to use this time to forgive yourself for all the things you did or didn't say or do.
And remember that you don't have to handle your grief alone. Talk with your family and friends about your loss, or find others who have lost a loved one. Your American Cancer Society is available 24 hours a day, 7 days a week and can help you find support online, local bereavement groups, and other resources. Call 1-800-227-2345.
Reviewed by
Helpful resources

American Cancer Society news stories are copyrighted material and are not intended to be used as press releases. For reprint requests, please see our Content Usage Policy.