Senior Scientist
Biospecimen Management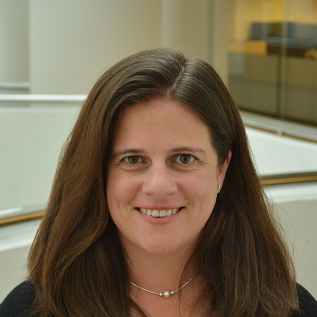 I started my research career conducting clinical outcomes research for an orthopedic surgeon. While pursuing my Masters of Public Health (MPH), I was able to apply my analytic skills to examine screening and treatment for breast and cervical cancer patients in Rhode Island. Seeing the significant impact of research on cancer outcomes inspired me to stay in the cancer research field. I feel fortunate to play a small role in helping cancer patients and their families."
At ACS since 2005
Elizabeth Bain, MPH, is a senior scientist on the Biospecimen Management team in Population Science at the American Cancer Society.  Her team collects, tracks, and manages blood, buccal cell, urine, stool, and tumor tissue samples from Cancer Prevention Study (CPS) participants, including CPS-II and CPS-3.  These specimens are used in a variety of ways to examine how genetics, metabolomics, gut microbiome, diet, vitamin D, infections, and many other factors affect a person's risk of developing cancer.
Research focus and accomplishments

Although I'm responsible for planning and managing research projects using all types of biospecimen samples, my team's primary focus is building our tumor tissue repository and our newest collection, stool samples. We collaborate with internal and external researchers, pathologists, and many different labs to collect and process our samples so they are ready for specific research project needs.
Our tumor repository currently has tumor tissues for over 8,000 cancer cases, and we have already collected over 3,500 stool samples to study the gut microbiome and cancer risk.  Both projects are ongoing and sample collections will increase each year.

It is exciting to have the opportunity to build and manage these resources that are used to address knowledge gaps about cancer risk and cancer outcomes.
Publications
For a full list of Bain's publications, visit her Google Scholar page.  
Contact 
678-528-3634
Work before ACS

Brown University, Department of Community Health, MPH Research Assistant
Rhode Island Hospital, Child Protection Program, MPH Research Assistant
Steadman Hawkins Sports Medicine Foundation, Clinical Research Department, Clinical Research Associate
Beth Israel Deaconess Medical Center, Office of Development, Administrative Assistant
Professional organizations

Blood Profiling Atlas in Cancer (BloodPac), Member
International Society for Biological and Environmental Repositories (ISBER), Member
Education

MPH: Brown University, 2005
BA: Health and Society, University of Rochester, 1998
Personal life 

I live in Decatur, GA, with my husband and son.  We enjoy swimming in the pool, trips to the beach, and spending most of our weekends on the soccer field.