ACS Cancer Prevention Studies
Since their start in the 1950s, the American Cancer Society's Cancer Prevention Studies (CPS) have advanced the scientific community's understanding about the causes of cancer. The insight we've gained from more than 2.7 million participants has informed cancer prevention and control programs, policies, and guidelines.
Our work, and the research it inspires and supports, is moving us closer to a day when cancer is preventable.
What Are the Cancer Prevention Studies?
Our Cancer Prevention Studies are prospective cohort studies, meaning we recruit and collect data from a large group of people who are all cancer free at the start. We continue to collect data for many years, with participants responding to surveys and requests to send us small biological samples, to try to understand why and how certain people develop cancer while others remain cancer free. 

Surveys. Every few years, we send surveys to participants, asking questions about their cancer status, as well as about factors and behaviors that may help prevent, or increase the risk of, developing cancer—such as their weight, diet, physical activity, and more.
Biological samples. The biospecimens that participants provide, such as a blood sample or a buccal swab to collect cells from the inside of the cheek, allow for research aimed at better understanding the role of genetics in the risk, development, and survival of cancer.
Published studies. Since these studies began, we have published more than 750 scientific articles that have furthered the science community's understanding of cancer and its risk factors. Our findings have significantly contributed to tobacco-related research and to the understanding of obesity, diet, physical activity, hormone use, air pollution, and other factors in relation to cancer and other diseases.
We will continue to use data collected from CPS study participants both before and after a cancer diagnosis to study factors associated with cancer survivorship. Learn more about how Cancer Prevention Studies Save Lives.
Prevention Studies for a Cancer-Free Tomorrow 
Since the 1950s, the American Cancer Society has conducted long-term studies that have played a major role in helping researchers better understand, prevent, and treat cancer. The findings from previous studies include confirming the link between cigarette smoking and lung cancer, the impact of having overweight or obesity on risk of cancer occurrence and death, and much more.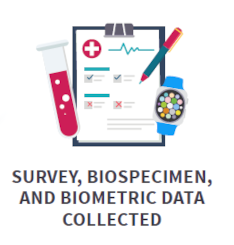 This infographic highlights some of the contributions and processes of the ACS cancer prevention studies, as well as what we hope to learn from the Society's current long-term studies and beyond

See How CPS Participants Are Helping to End Cancer