Cervical Cancer Survivor Relies on a Plan
Published on:

April 28, 2020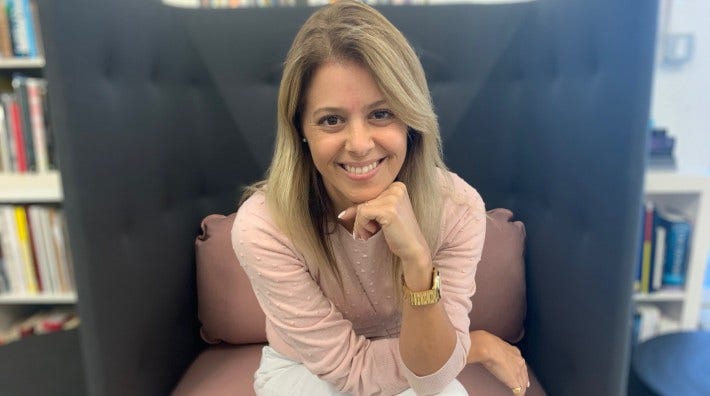 When Coral Conway was diagnosed with stage IIIB cervical cancer, she felt overwhelmed. She was getting advice and information from many different sources. She had visited local doctors and hospitals in Florida and talked with professionals in her home country of Argentina. Friends and family sent her everything from scientific research data to personal stories of people they knew who'd had cancer. She felt overloaded, disorganized, and lost. Coral realized what she needed was a plan.
She began to feel more in control after meeting a group of doctors at the Sylvester Cancer Institute in Miami. She says they listened to her needs and fears and worked with her on a treatment plan. Together, they decided on 3 months of treatment, including chemotherapy and radiation. She felt relieved to have a way forward, even though she knew the road would be rough. "I felt peace because I had a plan," she said. "I was nervous and anxious, but not as much as I had been before. I wasn't familiar with chemo or radiation, but at least I had a plan."
It started with lower back pain
Coral has always stayed fit and active. She enjoys walking, biking, and water sports including kayaking, paddle boating, and her favorite: dragon boat racing. Dragon boats originated in China and are traditionally decorated with dragon heads and tails during competition. Each boat holds about 20 people using handheld paddles and teams form clubs and train together.
Coral has always had regular medical checkups, including gynecology exams. But in January 2019, just after her 40th birthday, she began having back pain. She figured she'd hurt herself during dragon boat training. But the pain was bad and did not go away, so Coral went to the doctor. In fact, she went from doctor to doctor, who ordered tests and prescribed medicines, but nothing helped. A couple of months after she first sought treatment for the pain, her gynecologist gave her a Pap test combined with a test for human papillomavirus (HPV). Results showed she had HPV and abnormal cells on her cervix.
Infection with HPV is very common. In most people, the body is able to clear the infection on its own. But sometimes certain strains of the infection aren't cleared and, in some cases, that can cause cancer over time. There is a vaccine to protect against HPV that's approved for children as young as 9, but it wasn't available when Coral was at the age when the vaccine works best.
Next, Coral had a LEEP procedure, which removes abnormal cells from the cervix. After a LEEP, the cells are sent to a lab for testing. In April 2019, Coral got her test results back and learned she had cervical cancer.
Confronting mortality
I was confronted with my mortality. Suddenly I was thinking of possibly disappearing from the world. It was a rollercoaster.
Coral was scheduled for surgery. The doctor told her she had a 60% chance of surviving her cancer. "I was confronted with my mortality," said Coral. "Suddenly I was thinking of possibly disappearing from the world. It was a rollercoaster."
As she expected, treatment took its toll. The chemotherapy caused pain, weakness, loss of appetite, and weight loss, though she says anti-nausea medication was very helpful. Radiation made her tired and burned her skin in the area that was being treated. But she found ways to cope. "If I needed to rest, I rested. If I needed to laugh, I found an opportunity to laugh. If I needed a hug, I found someone to give me a hug," she said.
On her last day of treatment, October 12, 2019, Coral was too weak to ring the survivors' bell. But she came back the next day. "It was something to look forward to – I loved it," she said. "It was emotional and beautiful. I cried."
Infertility and acceptance
At the time Coral was diagnosed, she had been living in Miami for 15 years. "Everything in my life was working out," she said. "I was recently married, had a good job, loving family and friends, and decided to finally try to start a family with my husband."
Unfortunately, treatment for cervical cancer can affect a woman's ability to have children. Coral discussed options with her doctors and with a fertility specialist for ways to protect her reproductive organs during treatment or to remove and freeze her eggs before she started treatment. But the stage and type of her cancer and the location of her tumor made all those options even more complicated. Coral, her husband, and the health care team decided it wasn't worth the risk. She has had to accept that she will never be able to become pregnant.
"It's one of the biggest battles I haven't won," she said. "That's the one thing that has affected me a lot. I'm doing everything I can to reverse the negative thinking and not put so much energy into being sad. As my doctor told me, 'First you have to be alive.'"
Cancer far from home
Coral says telling her family in Argentina that she had cancer was difficult over the phone. "In Latin America we are used to having family all over the place and being surrounded by them," she said. "Part of the emotional challenge for me was having most of my loved ones very far away at a moment like that."
But she had the support of her husband, friends, family, and coworkers in Miami, as well as "people I would have never expected to show me so much love and care."
She also coped by staying in close touch with family in Argentina by phone and giving them as much information as she could. She and her husband sent a lot of pictures and videos, even to just say "Hi" from the chemo room. Friends and family also organized visits so that someone from the group made the long trip to Miami every week.
"Everywhere I looked, I saw love coming toward me," said Coral. "I was so lucky it's insane."
Feeling like Wonder Woman
Three months after Coral finished treatment, tests showed her tumor had shrunk so much it disappeared from the scans. "I felt like I was reborn," she said. "I felt like Wonder Woman." She'll continue to have scans every 3 months for at least the next 2 years to make sure the cancer doesn't come back. If everything continues to be OK, the number of follow-up check-ups after that will go down to once a year.
These days Coral says she feels almost back to normal again. She has worked hard to regain her strength, starting with 10-minute workouts, and gradually increasing the amount. She's gone back to work. And she traveled to Argentina to reconnect with family and friends there.
"It was emotional trip full of love and it reminded me again how lucky I am to be surrounded by such an energy," she said.
Reviewed by
Submit your story

Due to the impact of COVID-19 on American Cancer Society resources, we are no longer able to review new submissions for Stories of Hope.
American Cancer Society news stories are copyrighted material and are not intended to be used as press releases. For reprint requests, please see our Content Usage Policy.