Black Bean and Corn Salad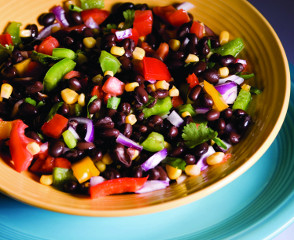 This salad is a great side dish for Mexican entrées or can be used as a dip for tortilla chips to start the meal. Use the measurements as a guide, but feel free to tinker. Remember this salad when you have leftover corn on the cob.
Serves: 8 to 10
Prep time: 15 minutes or less
Total time: 15 minutes or less
Ingredients
2 (15-ounce) cans black beans, rinsed and drained
1 cup fresh, frozen, or canned no-salt-added corn, drained
1 tomato, chopped
1 red, yellow, or green bell pepper, seeded and chopped
½ small red onion, chopped
1 jalapeño, seeded and finely chopped
2 tablespoons fresh lime juice
1 tablespoon olive oil
1 teaspoon ground cumin
Salt and freshly ground black pepper
¼ cup chopped fresh cilantro
Directions
In a bowl, combine black beans, corn, tomato, bell pepper, onion, and jalapeño. In a bowl, combine lime juice, oil, and cumin and drizzle over bean mixture. Season with salt and pepper and sprinkle with cilantro.
Per Serving (for 8 servings)
| | |
| --- | --- |
| Calories | 125 |
| Calories from Fat | 20 |
| Total Fat | 2.5 g |
| Saturated Fat | 0.4 g |
| Trans Fat | 0.0 g |
| Polyunsaturated Fat | 0.5 g |
| Monounsaturated Fat | 1.4 g |
| Cholesterol | 0 mg |
| Sodium | 80 mg |
| Total Carbohydrate | 20 g |
| Dietary Fiber | 7 g |
| Sugars | 5 g |
| Protein | 6 g |