Study Ties Whole Grains to Lower Risk of Liver Cancer
Published on:

February 27, 2019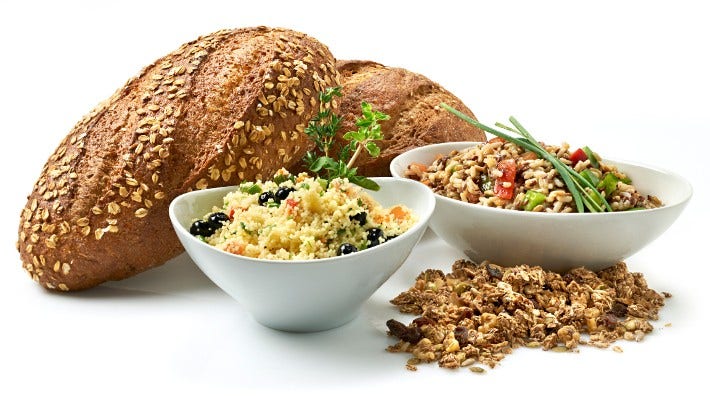 A large observational study shows eating more whole-grain foods may be linked to a lower risk of getting liver cancer. Although liver cancer is not currently one of the more common cancers in the US, it is the most rapidly increasing cancer in both men and women. According to the study authors, liver cancer is projected to be one of the top 3 causes of cancer-related death by 2030.
Known risk factors for liver cancer include obesity, type 2 diabetes, chronic infection with hepatitis B or C, heavy drinking, and smoking. However, the study authors say a large percentage of liver cancer cases in the US can't be explained by these factors. This is just the second large study to look for a link between dietary fiber and liver cancer. The study was published February 21, 2019 in JAMA Oncology.   
The researchers, from the US and China, looked at health records of 125,455 people from the Nurses' Health Study and the Health Professionals Follow-up Study. As part of these studies, participants filled out questionnaires every 4 years about their diets.
After a follow-up period of about 24 years, 141 participants had been diagnosed with hepatocellular carcinoma (HCC), the most common type of liver cancer in adults. Eating more whole grains was linked with a lower risk of HCC. The researchers also found that eating more bran and cereal fiber was possibly linked with lower HCC risk, although they didn't find a link with fruit or vegetable fiber.
Benefits of whole grains
This was an observational study, meaning it found a link between two things – eating more whole grains and having a lower risk of liver cancer – but it didn't prove that one definitely caused the other. However, the American Cancer Society already recommends choosing whole grains instead of refined grain products as part of a healthy diet to reduce your risk of cancer, heart disease, and diabetes.
"Eating a diet rich in whole grains is consistent with our guidelines, and this study gives us one more reason to follow the guidelines," said Marji McCullough, ScD, RD, American Cancer Society Senior Scientific Director, Epidemiology Research. She says good sources of whole grains include rye, pumpernickel, oatmeal, and other whole grain breads and cereals, brown rice, whole wheat bagels and pasta, and corn tortillas.
She recommends reading labels to make sure one of the first ingredients is "whole wheat," "oatmeal," "whole oats," "whole-grain cornmeal," or "whole rye." Don't be fooled by healthy-sounding terms like "100% wheat," "seven grain," or "bran" that often appear in the name of the product.
You can also add whole grains to your diet by choosing quinoa or bulgur instead of regular couscous. Add barley or bulgur to soups, and eat popcorn without added salt and butter for a good whole-grain snack.

American Cancer Society news stories are copyrighted material and are not intended to be used as press releases. For reprint requests, please see our Content Usage Policy.