Cuban-style Black Beans and Rice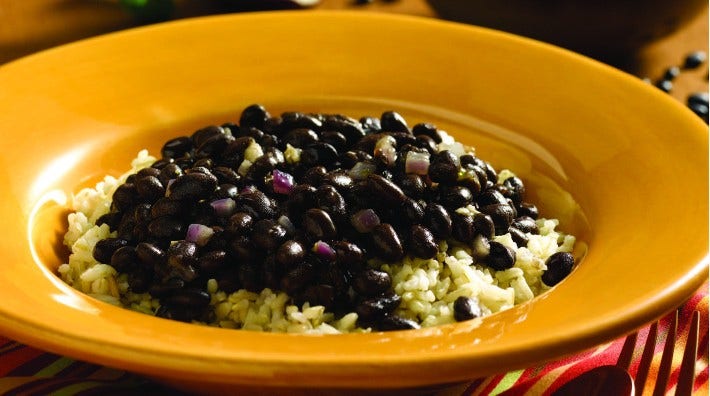 Making your own black beans is easy and economical. First, presoak the beans overnight, covering with water. Before cooking, strain the beans and add fresh water. You can cook the beans on the stovetop, in a pressure cooker, or in a slow cooker. To cook on the stovetop, add 3 cups of water for each cup of beans and cook over medium heat, partially covered, for 1½ to 2 hours, skimming off any foam. In a slow cooker, use 3 cups of water for each cup of beans and cook on low for 8 hours.
Prep Time: 10 minutes | Total Time: 30 minutes (plus time to cook beans) | 6 Servings
Canola oil, 1 tablespoon
Red onion, finely chopped, ½ cup
Garlic, minced, 1 tablespoon
Ground cumin, ¼ teaspoon
Dried oregano, ¼ teaspoon
Sea salt, ¼ teaspoon
Black beans, cooked, 3 cups, or 2 (15-ounce) cans black beans, drained, liquid reserved
Bay leaves, 2
Brown or white rice, cooked, 3 cups
Extra-virgin olive oil, 6 teaspoons
Per Serving
Calories, 291
Total fat, 8.2 g
Saturated fat, 1.1 g
Trans fat, 0.0 g
Polyunsaturated fat, 1.7 g
Monounsaturated fat, 5.1 g
Total carbohydrate, 45 g
Dietary fiber, 9 g
Sugars, 3 g
Heat the canola oil in a large, heavy pot and cook the onion until translucent. Add the garlic, cumin, oregano, and salt. Sauté for 2 minutes.
Add the beans and bay leaves. If using canned beans, add a small amount of the liquid along with the beans. Cook for 5 to 8 minutes on medium heat.
Remove the bay leaves.
To serve, put about ½ cup of cooked rice on a plate and top with ½ cup of black beans. Drizzle 1 teaspoon of olive oil on the top.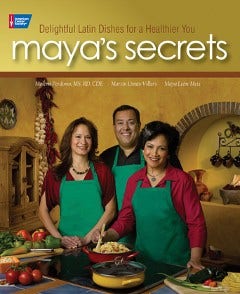 Maya's Secrets
Copyright ©2013 American Cancer Society.

Our lifesaving work is made possible thanks to generous supporters like you.
Donate now so we can continue to provide access to critical cancer information, resources, and support to improve lives of people with cancer and their families.